Shipping Information
Valentine's Day Shipping Dates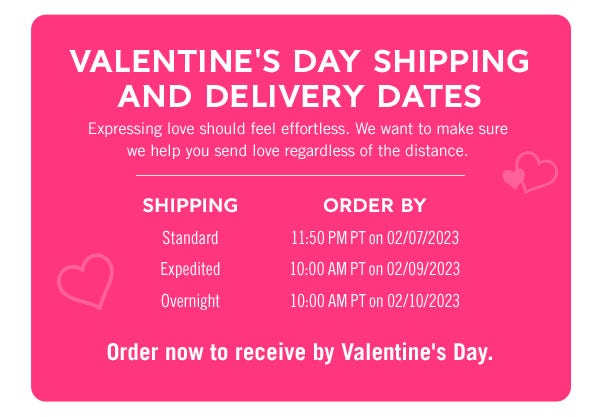 FedEx Delays
We do our best to ship your orders as soon as received. As our team works diligently to fulfill your orders, there are other external factors such as delay by FedEx that we cannot control. We appreciate your continued patience.
*Please note: FedEx is currently experiencing shipping delays due to higher order volumes.
How Orders Are Shipped
FedEx will deliver your order. After shipments have left the Ghirardelli factility and are in FedEx ownership, Ghirardelli is not liable for FedEx delivery timing. Please check your order tracking with our Track My Order Feature.
Shipping Methods
During checkout, you will see available delivery options for every ship to address you specify, and an estimate of when that shipment will arrive. Choose the option that's best for you, and we'll get your order carefully packed and sent to you.
*Orders placed after 10AM PT Mon-Fri will be processed on the next business day.

STANDARD SHIPPING (2-5 business days)
Orders are shipped Monday through Friday. Due to the perishable nature of our chocolate, only some locations are eligible for Standard Shipping during the months of Mid-April to Mid-November. Standard Shipping orders typically arrive in 2-5 business days although remote areas may take up to 9 business days. See "Warm Weather Shipping Rules" for warm weather months.

EXPEDITED SHIPPING
Orders are shipped Monday through Friday. Saturday deliveries are available to residential addresses at extra charge. Business addresses are delivered Monday through Friday. See "Warm Weather Shipping Rules" for warm weather months.

OVERNIGHT SHIPPING
Orders are shipped Monday through Friday. No Saturday or Sunday deliveries are available. See "Warm Weather Shipping Rules" for warm weather months.
Shipping Fees
These fees are for shipments within the contiguous United States:
| | | | |
| --- | --- | --- | --- |
| Merchandise Total Per Ship-To-Address | Standard Shipping | Expedited | Overnight |
| Up to $24.99 | $9.95 | $29.00 | $32.50 |
| $25.00 - $44.99 | $10.75 | $33.60 | $38.50 |
| $45.00 - $59.99 | $11.35 | $37.05 | $43.00 |
| $60.00 - $79.99 | $12.15 | $41.65 | $49.00 |
| $80.00 - $99.99 | $12.95 | $46.25 | $55.00 |
| $100.00 - $139.99 | $14.55 | $55.45 | $67.00 |
| $140.00 - $179.99 | $16.15 | $64.65 | $79.00 |
| $180.00 - $219.99 | $17.75 | $73.85 | $91.00 |
| $220.00 - $259.99 | $19.35 | $83.05 | $103.00 |
| $260.00 - $299.99 | $20.95 | $92.25 | $115.00 |
| $300.00 - $339.99 | $22.55 | $101.45 | $127.00 |
| $340.00 - $379.99 | $24.15 | $110.65 | $139.00 |
| $380.00 - $419.99 | $25.75 | $119.85 | $151.00 |
| $420.00 - $479.99 | $28.15 | $133.65 | $169.00 |
| $480.00 - $539.99 | $30.55 | $147.45 | $187.00 |
| $540.00 - $599.99** | $32.95 | $161.25 | $205.00 |
**For orders above $600: Shipping charge is calculated as a percentage of the order total, add items to cart to see shipping charge
Warm Weather Shipping
Warm Weather Shipping in effect mid April until mid November.
Our fulfilment team monitors weather closely to ensure good condition and quality of your chocolates. Due to the risk of melting, all orders with chocolates are shipped with ice packs, bubble wraps, and packing cushions to ensure your package delivered in good condition. At no extra cost to you. During the warm weather months, not all delivery options are always available. Based on shipping address zip code entered in checkout, your options will be automatically populated per FedEx's requirements.
Non-perishable items, however, are always eligible for standard ground shipping (1-9 business days).
Some Florida addresses will require these shipping restrictions due to warm weather all year around.
Shipping days for shipping methods:
Standard Shipping: Orders shipped from Monday through Wednesday. Expected to arrive in 2-5 Business days.
Expedited Shipping: Orders are shipped from Monday through Wednesday. Expected to arrive in 2-3 business days.
Overnight Shipping: Orders are shipped from Monday through Thursday
Map Key
Gold: Standard Shipping Available
Blue: Expedited or Overnight Shipping Required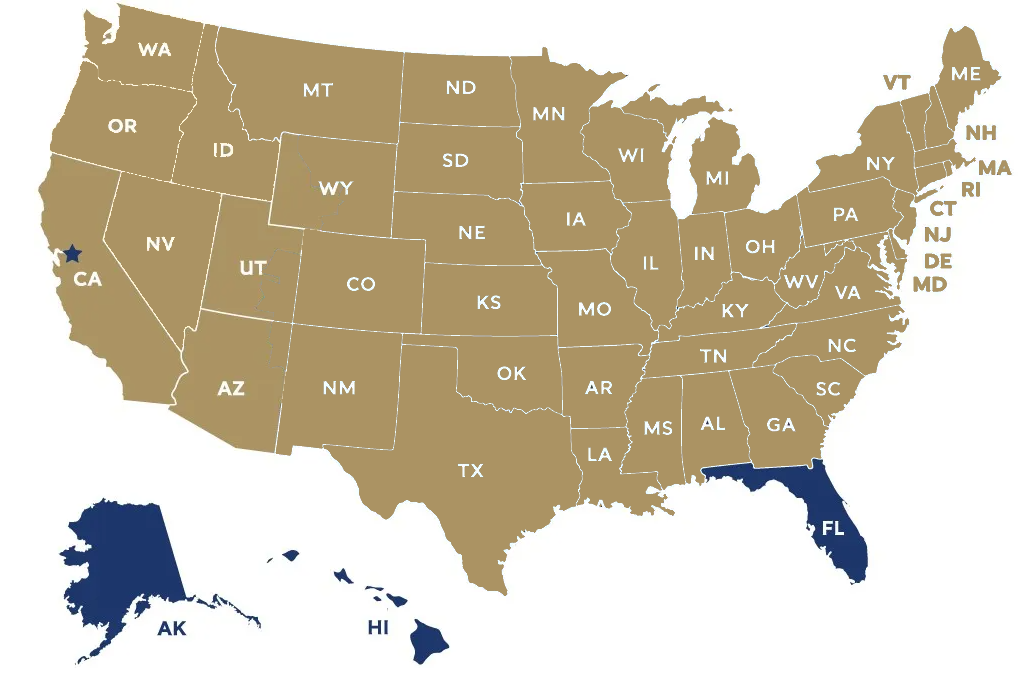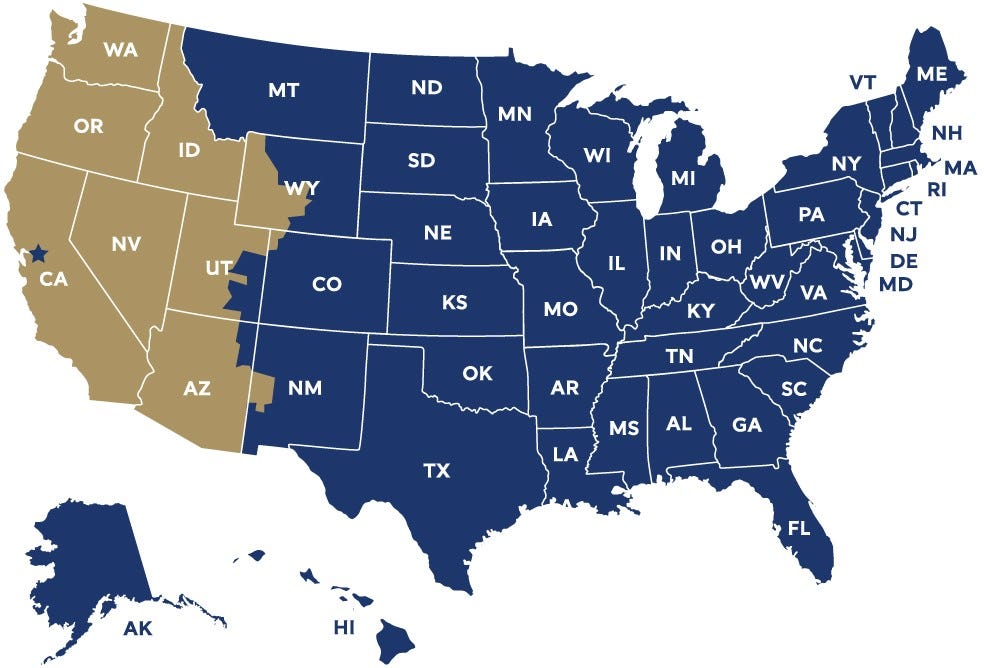 Shipping to Alaska, Hawaii, Puerto Rico, and the U.S. Virgin Islands
Expedited and Overnight delivery are available to addresses in Alaska and Hawaii. Shipments to Alaska and Hawaii will incur an additional $35.00 surcharge per ship-to address. We apologize, but shipments to Puerto Rico and the U.S. Virgin Islands are currently unavailable. See "Warm weather Shipping Rules" for warm weather months. Deliveries to remote areas require additional delivery time.
International Shipments
To preserve the high quality of our products, Ghirardelli is unable to support international shipping at this time. Deliveries may be sent to addresses only if they are within the 48 contiguous states.
Shipping to P.O. Boxes
Regretfully, we cannot ship to P.O. boxes nor can P.O. boxes be used as billing addresses.
Hotel or Hospital Deliveries
When shipping to a hotel or hospital, please verify discharge/checkout times and make necessary arrangements with the delivery location to ensure delivery to recipient's room. Ghirardelli is not responsible for packages misdirect after delivery.
Delivery
During checkout, you will receive an estimated time frame in which your order will be delivered. Once your order ships from our warehouse, you will receive an e-mail confirmation with a FedEx tracking number with an estimated delivery date. Circumstances beyond our control make it impossible to guarantee delivery dates. To manage or track your shipment with FedEx, please visit the Fedex website
Our Premium Promise
Ghirardelli Premium Chocolate is a decadent experience and we want to keep it that way. To assure freshness, all of our products ship with a minimum best before date of 45 days. Clearance items will ship with a minimum best before date of 30 days. The best before date on our chocolate products is a quality tool. It assures that the quality of a product consumed at the end of the shelf life still lives up to the Ghirardelli premium experience when stored at the right conditions.
If you receive a product not meeting these requirements, please contact our customer service team for assistance.
After Your Product Arrives
Keep chocolate tightly wrapped in an airtight container and store in a cool, dry place at 60–75°F. Not following these storage conditions will cause chocolate to "bloom," or develop a light-colored powdery surface on the chocolate, caused by sugar or fat crystals rising to the surface. When this happens, the chocolate is still safe to eat, but the texture will suffer. To prevent bloom, make sure the chocolate doesn't get too warm or experience extreme fluctuations in temperature. If properly stored, dark chocolate actually improves with age like a fine wine.
Misdeliveries
Shipments returned due to an incorrect shipping address will require an additional charge for reshipment. We are not responsible for delays in delivery times due to incorrect or incomplete addresses. Shipping charges will not be refunded for late deliveries if the business is closed or not available to receive the package when delivered.
Refusals
Due to the delicate nature of our chocolate, under warm weather conditions we ship with ice packs, which protect the chocolate from heat damage until it is delivered. The life span of ice packs is limited, please accept all shipments and store in a cool, dry place. However, if shipments are refused, we cannot guarantee that the chocolate will not be damaged. If you find a package was damaged while in transit, communicate the damage to the FedEx representative. We will settle any damage disputes with our carriers and will gladly replace any damaged product.
Returns
If for any reason you are not completely satisfied with your order, simply contact customer service within 30 days of receiving your product for instructions on how to return your order for a refund or have new product shipped to you. Our Customer Service Agents will be glad to assist you.