Ghirardelli Careers - Corporate
---
---
Where We Work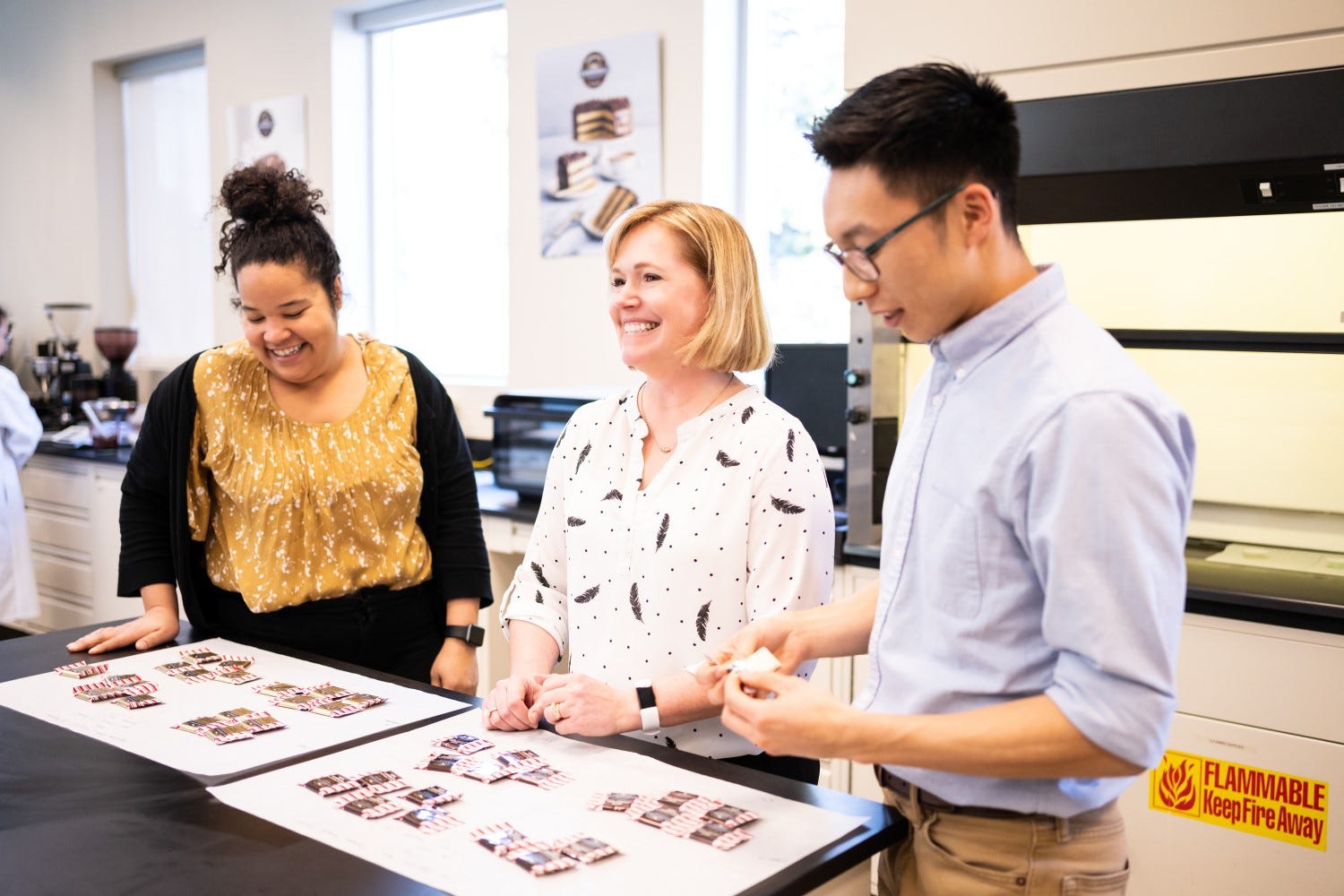 San Leandro, CA
Our Company Headquarters is located in San Leandro, California with our manufacturing plant, corporate offices and our newly remodeled retail store and ice cream shop.
We have a second corporate location in San Leandro located just a mile down the road, conveniently located across from the San Leandro BART station that includes several corporate divisions.
Tracy, CA
Our warehouse, packaging and customer service facility is located in Tracy, California.
The Tracy location is also home to a newly remodeled retail store and ice cream shop.
Field Offices & Other Locations
Many of our Sales and Professional Products Sales team members are located strategically around the US near our customers' offices and headquarters.
Locations vary by job function.
Restaurant & Retail Stores
Many of our Restaurant and Retail Division Support Team Members are strategically located near our Restaurant & Retail shops. Locations vary by job function.
---
What We Do
At Ghirardelli we have three key business areas – Confections & Baking, Retail & eCommerce and Professional Products - that bring Ghirardelli chocolate from our factories to stores, shops and restaurants around the country and even right to your doorstep for you to enjoy.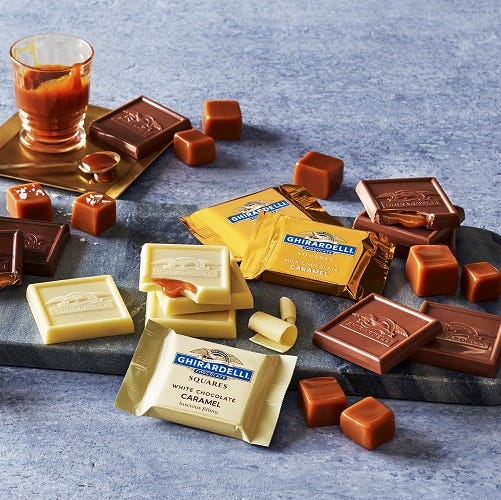 Confections & Baking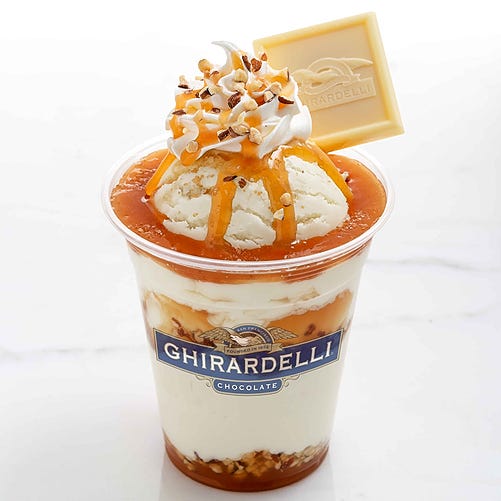 Restaurant, Retail, and eCommerce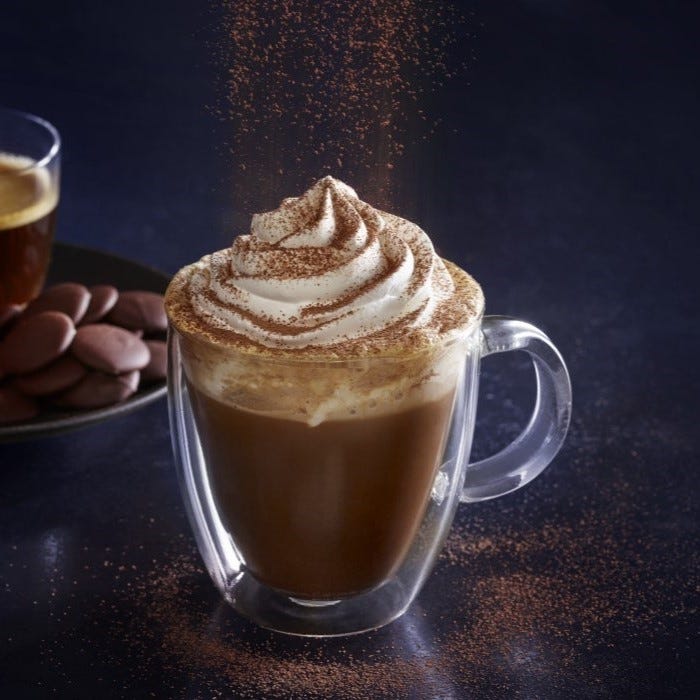 Professional Products
---
Corporate Benefits
Mind & Body
Ghirardelli offers the choice of a PPO or high-deductible PPO (HSA) plan for medical insurance coverage under United Healthcare. The PPO plan provides benefits within the health plan's network of doctors with the option of going out-of-network for higher costs. The high-deductible plan has the added benefit of a Health Savings Account (HSA) which can be used to pay eligible expenses incurred by the member. Ghirardelli will contribute $800 for Individual or $1600 for Family coverage (prorated for new hires) and any unused HSA dollars roll over year-to-year.
Virtual Visits allow our employees to see a doctor 24 hours a day, 7 days a week, 365 days a year in the comfort of their own homes. The three leading networks we use are AmWell, Doctor on Demand, and Teladoc.
Ghirardelli offers the choice of an HMO or PPO plan for dental insurance coverage under MetLife. The Dental HMO plan provides fixed co-pays for a wide range of benefits including preventative and diagnostic treatment. The MetLife selected dentist is responsible for coordinating all the member's dental care. The Dental PPO plan provides benefits within the dental plan's network of doctors with the option of going out-of-network. The in-network plan providers have agreed to lower negotiated rates for services provided to plan members.
Corporate employees who elect one of Ghirardelli's Dental Insurance plans, automatically receive Ghirardelli's vision insurance which is offered through Vision Services Plan (VSP). This plan provides coverage for vision exams, lenses and frames every twelve (12) months.
The Employee Assistance Program (EAP) is provided through Ability Assist Counseling offered by ComPsych at no cost to eligible employees and their dependents. This is a confidential counseling program that provides help in a broad range of personal topics that affect an employee's personal life and well-being. EAP consultations are strictly confidential. No details of any consultation sessions are shared with Ghirardelli.
Innovative wellness programs offered through ComPsych's Guidance Resources addresses the full continuum of behavioral issues which can lead to improved well-being and performance. It is a comprehensive solution, which empowers employees to make healthy lifestyle changes while helping them to overcome the barriers to success such as emotional and behavioral issues. Some of the services include health assessments, tobacco cessation, weight management, and lifestyle coaching.
To be eligible for United Healthcare's Fertility benefits, members are required to join UHC's ServiceNow Fertility Solutions. This program gives participants one-on-one access to specialized fertility nurses who will guide them through the fertility process and help to optimize the fertility benefits available. Additionally, the United Healthcare plan also includes Donor Coverage to assist with associated donor medical and prescription expenses. The UHC Medical Plan covers up to $20,000 per person in Medical Infertility Services and up to $10,000 per person in Prescription services. Co-insurance applies after the deductible has been met.
Financial & Legal
The Hartford is the insurance carrier for Ghirardelli's life insurance coverage. The plan provides two types of benefits: life insurance and accidental death and dismemberment (AD&D). The life insurance benefit is two times the annual salary up to a maximum benefit of $700,000. Ghirardelli also offers spouse/domestic partner benefits at $10,000 and dependent children at $1,000 each. Ghirardelli provides this benefit at no cost to the eligible employee.
The HSA is an account specifically for our high deductible medical plan. Ghirardelli will contribute $800 for Individual or $1600 for Family coverage (prorated for new hires). Any unused HSA dollars roll over year-to-year and can be used for qualified medical, dental and vision expenses.
The Health Care FSA allows you to use pre-tax dollars to pay for your annual deductible, coinsurance, copays, prescription drugs, and other eligible medical, vision and dental expenses not covered by your plan. This is a use-it-or-lose-it plan. Dollars you set aside must be used to pay for eligible expenses incurred during the plan year – between January 1 and December 31.
The Dependent Care FSA allows our employees to use pre-tax dollars to pay for eligible childcare for dependents under the age of 13 or adult day care. This is a use it or lose it benefit.
We help our employees save money on commuting costs by offering tax-free commuter benefit and/or parking allowance programs. Employees can set aside pre-tax dollars to pay for qualified, out-of-pocket work-related transportation expenses (bus, rail, ferry, or van pool). Or they can set aside pre-tax dollars to pay for qualified out-of-pocket, work-related parking expenses at or near their place of employment or near the location from which they commute.
Ghirardelli's 401k Retirement and Savings Plan is designed to provide a vehicle for obtaining financial security at retirement. Once an employee meets the eligibility requirements, the plan provides for automatic enrollment at 6%. Ghirardelli will match 100% of eligible compensation that an employee defers into their 401k plan, up to a maximum of 6%. The dollar-for-dollar employee match (up to 6%) is funded into the employee's account each pay period. Employees gradually earn a vested right to the match contributions funded to their account.
The critical Care Protection Plan is designed to provide financial support to pay for daily living expenses such as rent/mortgage, groceries, childcare, or monthly bills if an employee is diagnosed with a critical covered illness.
For covered injuries, the Accident Protection Plan will pay a cash benefit. If an employee is enrolled, any payment they receive is in addition to the benefits the health plan pays, and deductibles do not need to be met to receive money. The plan covers more than 80 injuries and services.
Employees may purchase LegalEase, which provides legal services. Membership includes access to a national network of attorneys with concierge services to assist in finding a credentialed lawyer. One rate covers the Employee, Spouse or Domestic Partner and Dependent Children up to age 26.
Employees may purchase Nationwide's My Pet Protection Plan, available to cover a variety of pets. The Plan gives access to veterinarian's worldwide to cover accidents, injuries, common illnesses, serious/chronic illness, and prescriptions.
PerkSpot is an online employee perks and discount hub where our employees can save money on exclusive offers tailored just for them. It's a one-stop shop where they can find all their discounts for all their favorite goods and services such as dining, events & movies, travel, health & wellness, computer & technology as well as auto maintenance.
The Employee Referral Program has been developed to reward employees for their assistance with the recruitment of qualified candidates to fill specific, current, open salaried positions. Under the program, eligible employees will receive a net payment for the referral of a candidate who accepts and begins active employment.
Ghirardelli offers an employee discount on purchases of our confections and gift packages. Employees enjoy a 50% discount on most of our luscious chocolate and ice cream fountain products!
Ghirardelli's bonus plan is based on overall company performance and provides compensation beyond our employees' regular salary. It is an incentive for reaching certain predetermined individual or team goals. The bonus structure is based on the level of the employee and is not guaranteed.
Life & Work
The Identity Theft Assistance program is available to protect you, your spouse/domestic partner, and dependent children. Should you experience identity theft, you can access a fraud resolution specialist through The Hartford's Generali Global Assistance, Inc.
In the event of a death in the immediate family, the company grants up to 5 scheduled workdays off with pay and part-time employees are eligible for up to 3 scheduled workdays off with pay. To provide extra support, The Hartford offers a Beneficiary Services program.
Through Travel Assistance, we offer a variety of guidance for employees if they are more than 100 miles away from home for 90 days or less. Services include emergency medical assistance, pre-trip information, and emergency personal services.
Employees at Ghirardelli can enjoy their FTO without the pressure of using or losing that time at the end of the year. Corporate employees are entitled to FTO, and the time is accrued based on their years of active service. FTO caps are in place based on years of active service as well.
Salaried employees receive 12 paid holidays annually. To be eligible for holiday pay, an employee must be regularly scheduled to work on the day on which the holiday is observed.
Parental leave for the Birth Parent provides 12 weeks of 100% pay while on leave immediately following the birth of a child. For the Non-Birth Parent, this leave provides 6 weeks of paid leave following the birth, adoption, or placement of a foster child.
To support Ghirardelli families who are adopting a child, Ghirardelli reimburses 100% of legally eligible expenses related to adoption - up to $5,000 per adopted child per family.
Regular full-time employees who have completed at least six months of continuous full-time employment are eligible for tuition reimbursement. Coursework must be directly related to the upgrading of skills pertaining to the employee's current or projected assignment and must be a part of an approved degree or certificate program offered by an accredited college or university. College courses attended may be reimbursed up to a maximum of $7,000 per calendar year for undergraduate level and $10,000 per calendar year for graduate level courses for a grade of C or better.
Summer hours will generally begin on the Friday before Memorial Day and end on the Friday before Labor Day. Corporate full-time employees will be allowed to end their workday at 2 PM on Fridays provided all critical work for that week has been completed. Not all areas of the business can accommodate summer hours. Production and Retail management may have responsibilities that need to be completed beyond these hours.
Ghirardelli corporate roles are primarily based at our corporate offices in San Leandro to support team collaboration essential to a consumer-packaged goods company. Employees may work remotely up to two days pers week if their job responsibilities permit. The remainder of the work week should be conducted in their assigned corporate office.
Paid Volunteer Time allows our employees to take up to 8 hours of paid volunteer time per year. This time can be used during a workday to give back to the local community.
Rally is a personal health and wellness program that allows our employees to earn valuable rewards for participating in one of many wellness activities like cooking at home or fitness challenges. Employees can earn up to $200 in valuable gift cards valid at hundreds of national retailers.
We have free on-site parking at our corporate offices in secured lots. This frees our employees from the stress and anxiety of searching for parking.
We are providing corporate employees the flexibility to make their own choices regarding their appearance which applies in the office environment or working onscreen from home. "Dressing for Your Day" means that we trust our employees to decide what they feel is appropriate to wear and best represents our premium brand. This includes more casually on days filled with internal meetings with their team, and potentially dressing more formally for meetings with customers or key partners. This applies to all employees who are not required to wear a uniform while working at any Ghirardelli facility.
Both of Ghirardelli's corporate offices in San Leandro have food on-site for purchase provided by Nourish, Inc. Café Domingo is our cafeteria at our main headquarters which includes a hot food station, a refrigerated Grab-N-Go station, Alameda Soda Company fountain beverages, salad bar, soup station, display of sweets, snacks, and coffee. Grab-N'- Go salads, sandwiches, entrees, and snacks are preprepared for our San Leandro Tech Campus location.
UnitedHealthcare creates and publishes the Machine-Readable Files on behalf of the Ghirardelli Chocolate Company. To link to the Machine-Readable Files, please click on the URL provided: https://transparency-in-coverage.uhc.com
Note: This is not intended to be a complete description of all our benefits but a brief summary for your review. The Ghirardelli Chocolate Company, at its sole discretion, reserves the right to change, modify, or eliminate benefits at any time.
---
Corporate Benefits
Mind & Body
Medical
Virtual Visits
Dental
Vision
Employee Assistance Program (EAP)
Behavioral Health
Intertility Support
Financial & Legal
Life Insurance, AD&D & Disability

Health Spending Account (HSA)

Flexible Spending Account (FSA)

Dependent Care FSA

Commuter & Parking Benefits

401k Retirement & Savings Plan match

Critical Illness Coverage

Accident Protection

Legal Insurance

Pet Insurance

Perkspot

Referral Bonus Program

Employee Discounts

Bonus Program
Life & Work
Flexible Time Off
Paid Holidays
Paid Parental Leave
Adoption Assistance
Educational Assistance
Summer Hours
Telecommuting
Paid Volunteer Time
Rally Rewards
Free On-site Parking
Dress for Your Day
Onsite Food Service/Cafeteria
Identity Theft & Fraud Protection
Bereavement Services
Travel Assistance
UnitedHealthcare creates and publishes the Machine-Readable Files on behalf of the Ghirardelli Chocolate Company. To link to the Machine-Readable Files, please click on the URL provided: https://transparency-in-coverage.uhc.com
Note: This is not intended to be a complete description of all our benefits but a brief summary for your review. The Ghirardelli Chocolate Company, at its sole discretion, reserves the right to change, modify, or eliminate benefits at any time.
---
Diversity, Equity, and Inclusion
At Ghirardelli, we put people first. We celebrate our differences because together, they make us stronger. We strive to make life a bite better for everyone, every day, every time.

Ghirardelli VIBE
POC & Black Professionals
We stand for Valuing Inclusivity, Belonging, and Equity to Make Life a Bite Better for People of Color and Black Professionals.
Our goal is to create an environment to elevate our ethnically diverse employees through relationship building, open discussions, and to enlighten our peers through company and community events.

Ghirardelli WIN
Women Inclusive Network
Empower All Women at Ghirardelli to Unlock Their Full Potential.
Courageously transform the culture at Ghirardelli to further include and enable women to grow through networking, mentoring and development opportunities.

Ghirardelli VIBE
LGBTQ+
Our mission is to openly and enthusiastically support LGBTQ+ community members in the diverse needs and celebrations that impact their lives. We aim to provide education, support, and advocacy both internally to the Ghirardelli community and externally to the communities where our employees interact.

Ghirardelli Young Professionals
Young Professionals
Create clarity and energy for Young Professionals to optimize their potential and experience at Ghirardelli.​
Establish a diverse network of Young Professionals from different functions who can support and empower each other with a focus on personal growth, career development, community outreach, and sustainability.