Milk Chocolate & White Mousse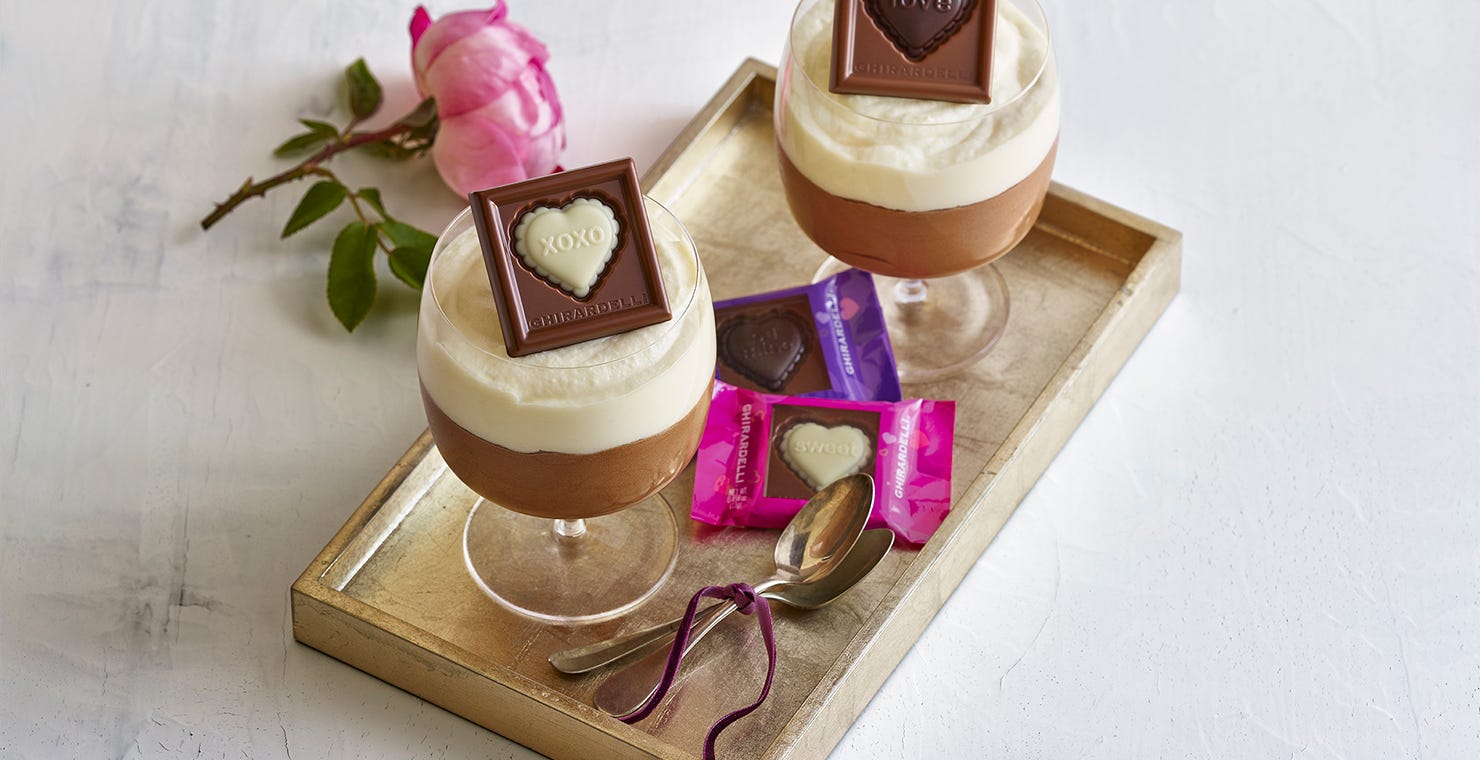 Chocolate Mousse Ingredients
8 oz (2 bars) Ghirardelli 60% Cacao Bittersweet Chocolate Baking Bar
2 cups heavy cream
4 eggs, room temperature
2 tablespoons sugar
White Chocolate Mousse Ingredient
8 ounces Ghirardelli Classic White Baking Chips
4 tablespoons orange liqueur, such as Grand Marnier
2 tablespoons water
1 1/4 cups heavy cream
2 egg whites
MILK CHOCOLATE MOUSSE RECIPE: Whip the cream to form light peaks. Set aside in the refrigerator.

Melt the chocolate bars in a large mixing bowl set over barely simmering water. Meanwhile, whip the eggs with the sugar until very fluffy and thick, about 10 minutes.

The mixture will start to thicken, so work quickly. Quickly stir in the beaten eggs, then fold in the whipped cream.

Pour or spoon mixture into cups or bowls, and chill until firm, about 2 hours.

WHITE MOUSSE RECIPE: In double boiler over hot water, melt white chips with liqueur and water; stir gently to blend.

Cool until melted white chips mixture no longer feels warm to the touch.

In large bowl with electric mixer, beat cream until soft peaks form; fold cream into melted white chip mixture.

In large bowl with clean mixer, whisk egg whites until soft peaks form.

With rubber spatula, fold egg whites into white chips mixture.

Divide mousse among 6 dessert bowls or glasses. Chill at least 1 hour.

Tips: Instead of orange liqueur 4 tablespoons water and 1 teaspoon vanilla extract.