Ghirardelli Peanut Butter Swirled Fudge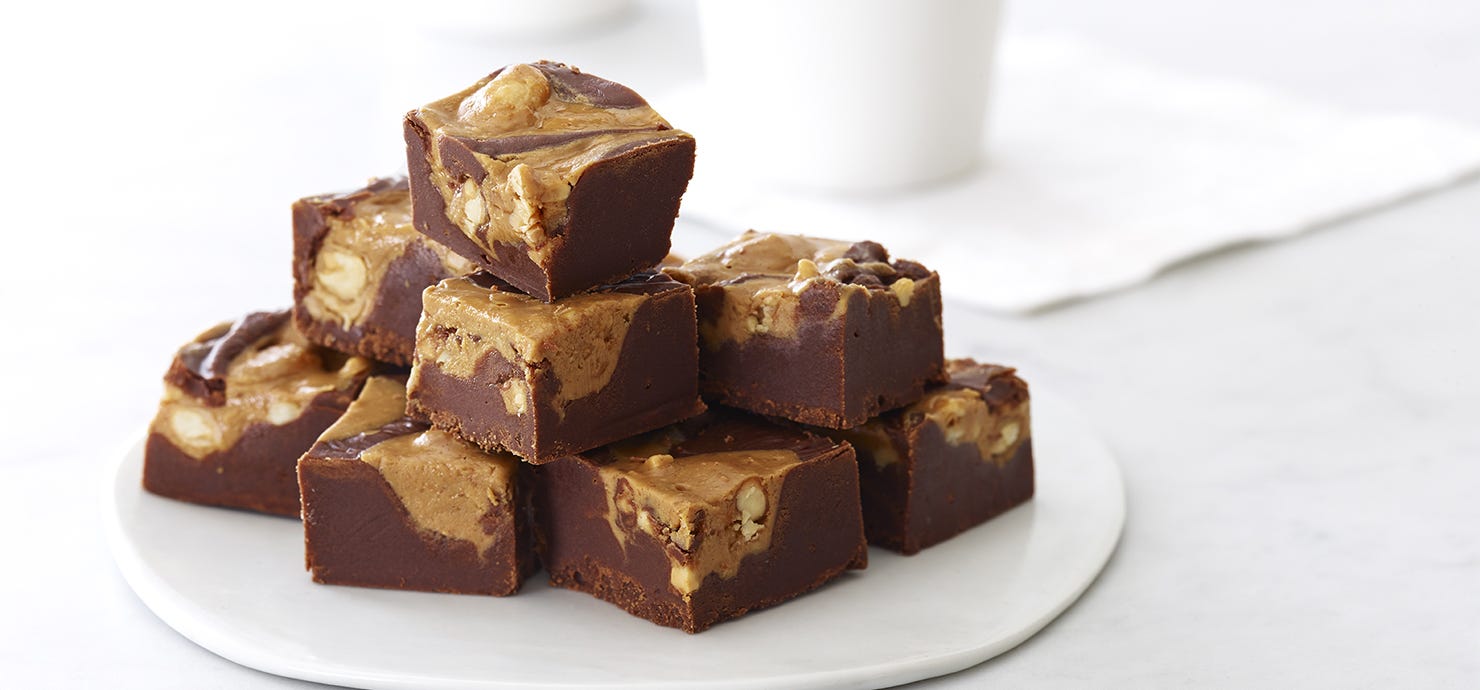 Servings: 2 1/3 pounds fudge
1/2 cup nutty peanut butter
1/3 cup honey roasted or toffee peanuts, or salted roasted peanuts
2/3 cup (5.3 fluid ounces) evaporated milk
2 1/4 cups sugar
2 tablespoons butter
1/4 teaspoon salt
2 cups miniature marshmallows
1 1/4 bars (5 ounces) Ghirardelli 100% Cacao Unsweetened Chocolate Baking Bars, broken into ½-inch pieces
1 teaspoon vanilla extract
Line the bottom and sides of an 8-inch pan with foil.

PEANUT SWIRL: Stir the peanut butter and peanuts together in a small bowl and set aside.

FUDGE: In a 3 to 4 quart heavy-bottom saucepan over medium high heat, stir the evaporated milk, sugar, butter, and salt together thoroughly with a heatproof (silicone) spatula.

Bring the mixture to a full rolling boil, stirring constantly and scraping the bottom, sides, and corners of the pot.

Set a timer and continue to boil for 5 more minutes, stirring and scraping the pot constantly and adjusting the heat so that the entire surface bubbles very actively but not furiously.

Remove the pot from the heat and add the marshmallows, chocolate, and vanilla.

Stir vigorously until the marshmallows and chocolate are completely melted and the mixture looks smooth and thoroughly blended.

Scrape the fudge into the lined pan and tilt the pan to level the surface.

Scatter tablespoon size dollops of the peanut mixture over the hot fudge and push them deeper into the fudge with the spoon.

Use a knife to swirl the peanuts and fudge together without blending them completely.

Rap the pan hard, several times, on the counter to level the surface of the fudge.

Let cool until set, about three hours.

Lift the foil to remove the fudge and peel off the foil.

Cut fudge into 36 squares using a long sharp knife and a guillotine stroke.