Dark Chocolate-Caramel Cream Puffs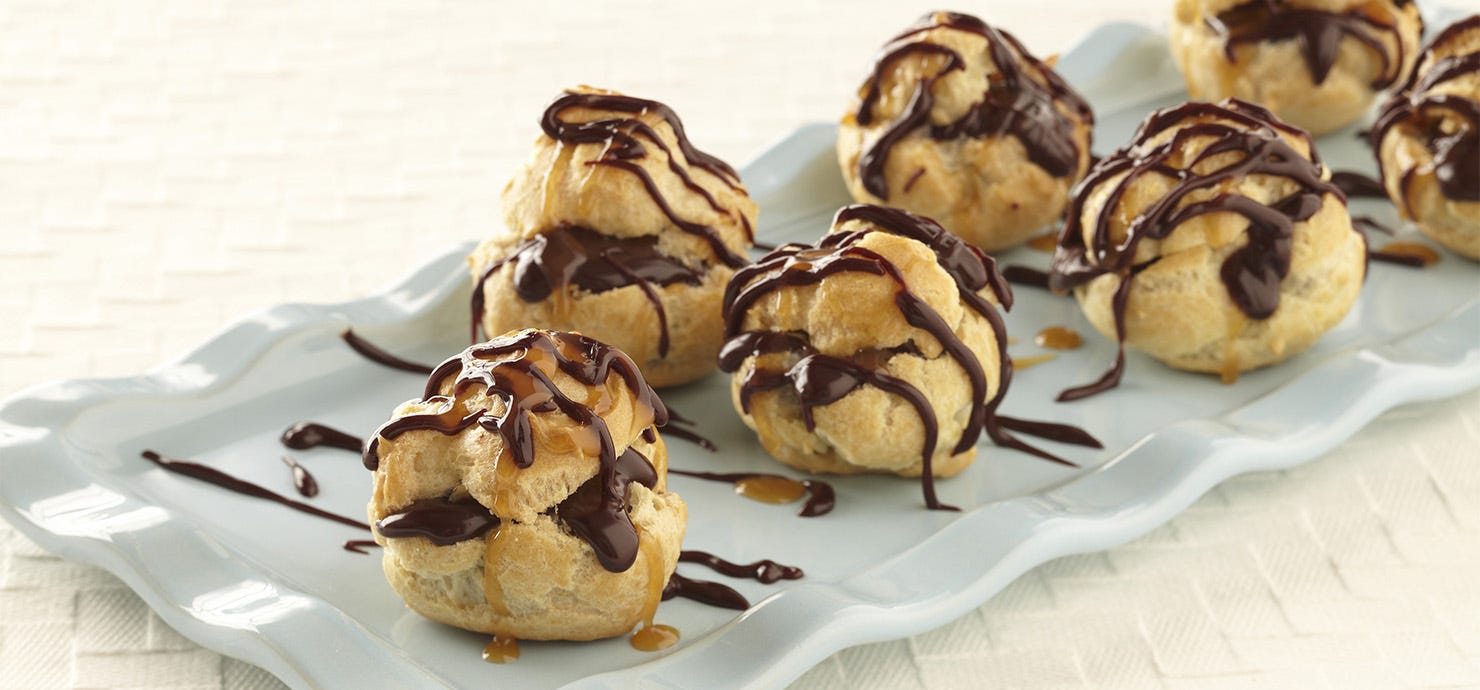 1 cup water
1/2 cup butter
1/4 teaspoon salt
1 cup all-purpose flour
4 eggs
3/4 cup heavy or whipping cream
1 10-ounce package Ghirardelli 60% Cacao Bittersweet Chocolate Baking Chips plus additional 1/2 cup for chocolate drizzle
1/2 cup prepared caramel topping
Chocolate Drizzle:
1/2 cup Ghirardelli 60% Cacao Bittersweet Chocolate Baking Chips
1 teaspoon shortening
Preheat oven to 400°F. For cream puff dough, in a medium saucepan, combine water, butter, and salt; bring to a boil. Add flour all at once, stirring vigorously. Cook and stir until mixture forms a ball; remove from heat. Cool for 10 minutes. Add eggs, one at a time, beating well after each addition.

Drop dough by rounded teaspoon 2 inches apart onto 2 greased baking sheets. Bake one sheet at a time for 20 to 25 minutes (keep remaining dough covered while first batch bakes). Transfer to a wire rack; let cool for 15 minutes.*

Meanwhile, for filling, in a medium saucepan, bring cream just to a boil over medium-high heat. Remove from heat. Add 10-ounce Ghirardelli® 60% Cacao Bittersweet Chocolate Baking Chips. Do not stir. Let stand for 5 minutes. Stir until smooth. Stir in caramel topping. Cool for 15 minutes.

Using kitchen scissors, cut tops from cream puffs; remove any soft dough from inside. Spoon about 1 tablespoon filling into each cream puff. Replace tops. If desired, drizzle with additional prepared caramel topping and/or Chocolate Drizzle.

For Chocolate Drizzle, in a small microwave-safe bowl, combine 1/2 cup Ghirardelli 60% Cacao Bittersweet Chocolate Baking Chips and 1 teaspoon shortening. Microwave at half power or defrost setting for 1 minute. Remove and stir. If chocolate is not melted, return to microwave and repeat heating step, stirring every 15 seconds to avoid scorching. Stir until smooth.

* To make ahead, prepare and bake dough as directed through Step 2; cover and store at room temperature for up to 24 hours or freeze for up to 3 months.