Cream Cheese Sandwich Cookies with Dark Chocolate Filling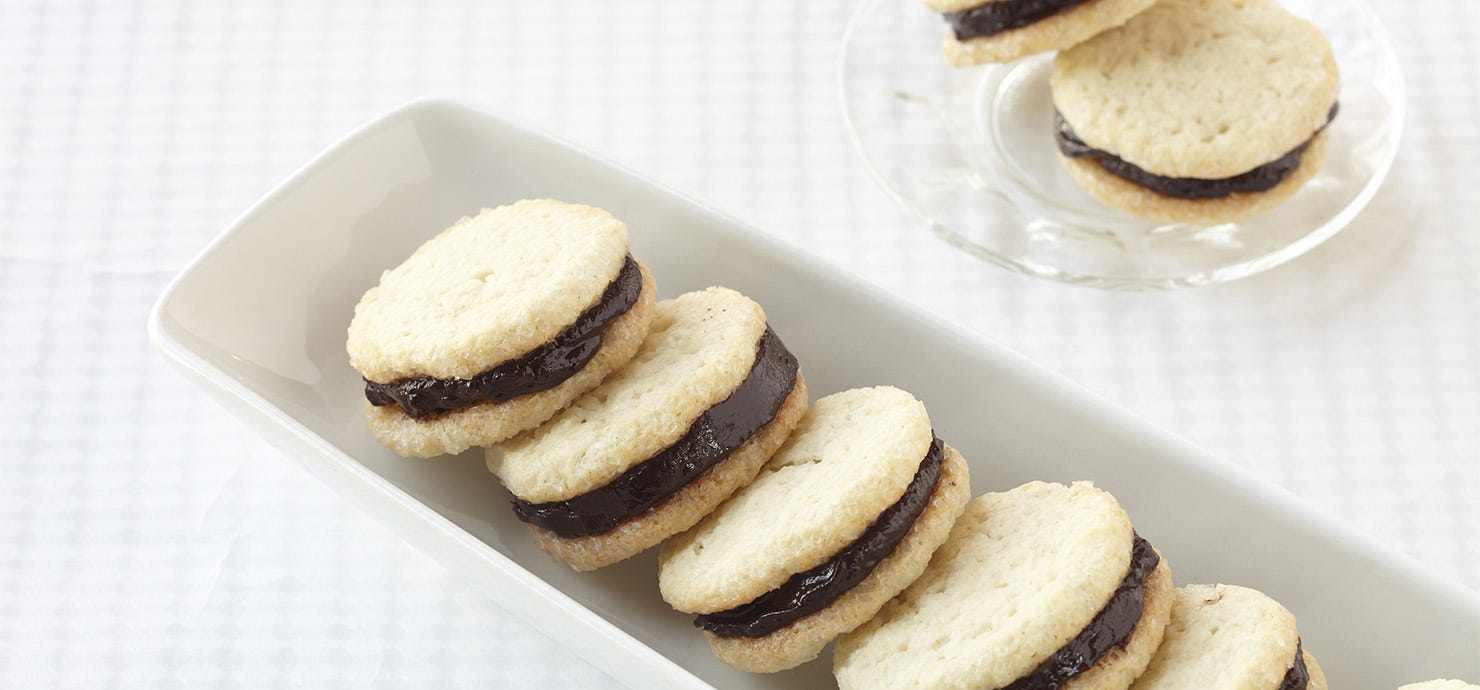 1 16.5- to 18-ounce package refrigerated sugar cookie dough
3 ounces cream cheese, softened
3 tablespoons all-purpose flour
1/4 cup coarse granulated sugar (white or colored)
3/4 cup heavy or whipping cream
1 10-ounce package Ghirardelli® 60% Cacao Bittersweet Chocolate Baking Chips
In a large bowl, beat cookie dough, cream cheese, and flour with an electric mixer on low to medium speed until combined.

Divide dough in half. Shape each half into an 8-inch long log. Sprinkle coarse sugar onto a piece of waxed paper. Roll logs in sugar. Wrap logs in plastic wrap. Freeze logs for 2 hours or until firm enough to slice.

Preheat oven to 350°F. Cut logs into 1/4-inch slices. Place slices about 1 inch apart on ungreased cookie sheets. Bake in batches for 6 to 8 minutes or until lightly browned. Cool on cookie sheets for 2 minutes. Transfer cookies to wire racks; cool completely.

Meanwhile, for filling, in a medium saucepan, bring the cream just to a boiling over medium-high heat. Remove from heat. Add Ghirardelli® 60% Cacao Bittersweet Chocolate Baking Chips. Do not stir. Let stand for 5 minutes. Stir until smooth. Cool for 15 minutes before using. Spread 2 teaspoons of the filling* on the bottom of each of half of the cookies. Top with the remaining cookies, bottom sides down.

To Store: Layer filled cookies between sheets of waxed paper in an airtight container; cover. Store in the refrigerator for up 3 days or freeze for up to 1 month. Let stand at room temperature for 30 minutes before serving.