Vanilla Cupcakes with White Chocolate Frosting and White Chips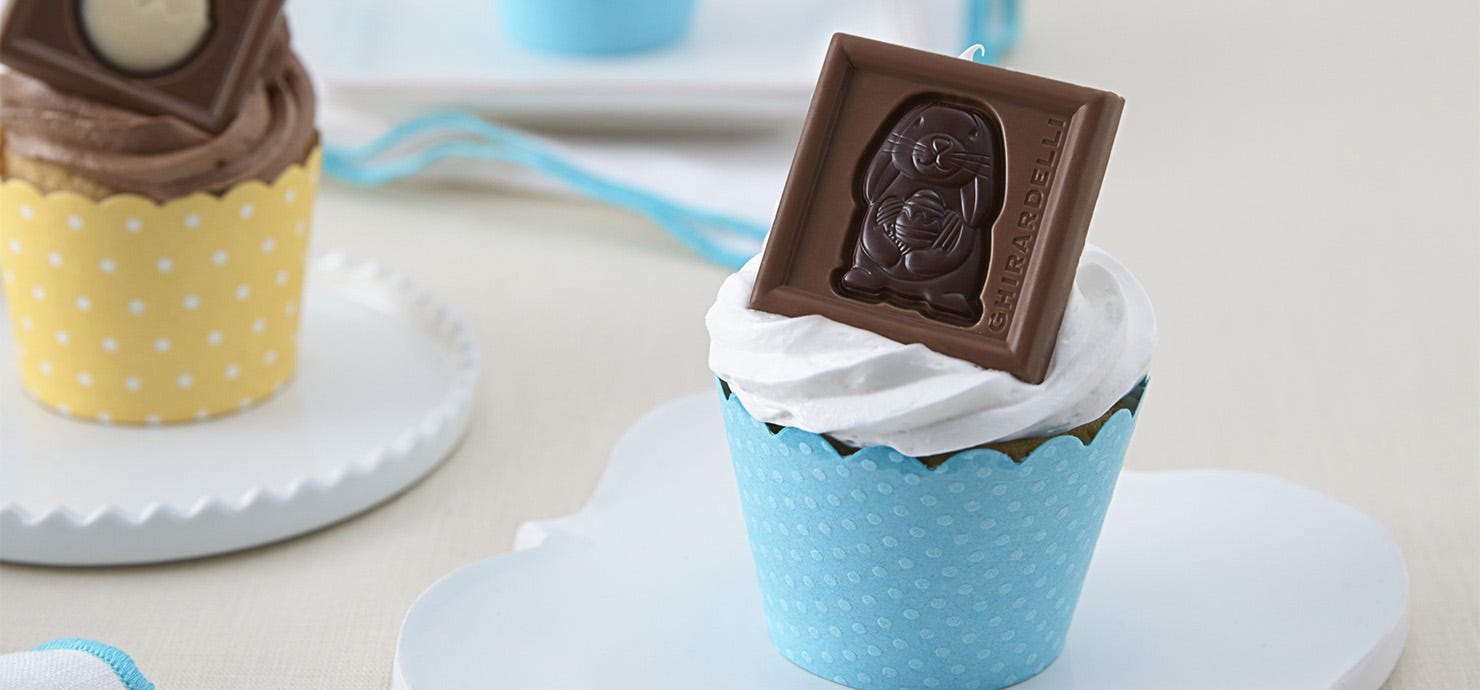 1 cup Ghirardelli Classic White Chips
6 ounces Ghirardelli White Chocolate Baking Bar
1 3/4 cups plus 2 tablespoons all-purpose flour
3/4 teaspoons baking powder
1/4 teaspoon salt
3/4 cup (1-1/2 sticks) unsalted butter, at room temperature
1 1/2 cups granulated white sugar
3 large eggs
3/4 cup whole milk
3/4 teaspoon fresh lemon juice
1/2 teaspoon pure vanilla extract
4 large egg whites
1 cup plus 2 tablespoons granulated white sugar
1 cup plus 2 tablespoons (2-1/4 sticks) unsalted butter, at room temperature
Preheat the oven to 350°F.

Line 14 cupcake molds or muffin tins with paper liners or spray with nonstick spray.

Sift together the flour, baking powder, and salt.

To make the cupcakes, in large bowl, beat the 3/4 cup butter and 1-1/2 cups sugar with an electric mixer on medium speed until light. Add the 3 eggs, one at a time, scraping down the sides of the bowl between each addition. Stir together the milk, lemon juice, and the vanilla. On low speed, add half the milk mixture.

Mix until incorporated; scrape down the sides of the bowl. Add the remaining milk mixture and the dry ingredients in the same manner.

Divide the batter amount the 14 cupcake molds.

Bake on the middle oven rack for about 15 minutes, or until a tester inserted in the center of the cupcakes comes out clean.

Cool cupcakes in their pans for 10 minutes. Then unmold and cool on a wire rack.

To make the frosting, melt the white chocolate baking bar in the top of a double boiler, or in a heatproof bowl over barely simmering water, stirring occasionally until smooth.

Cool to room temperature. While the chocolate is cooling, combine the egg whites and 1 cup plus 2 tablespoons sugar in the bowl of an electric mixer.

Place the bowl in a pot of simmering water so the water comes a third of the way up the bowl.

Lightly whisk the egg whites just until hot to the touch, about 1-1/2 minutes.

Remove the bowl from the pot on whisk on high speed until very thick and cooled to room temperature, about 5 minutes.

Decrease the mixer to medium-low speed and add the butter, 1 tablespoon at a time, mixing the butter in before adding the next tablespoon.

Add the melted white chocolate and vanilla and mix until smooth. Frost the top of each cupcake and sprinkle them with the white chips.