Chocolate Sandwich Whoopie Pies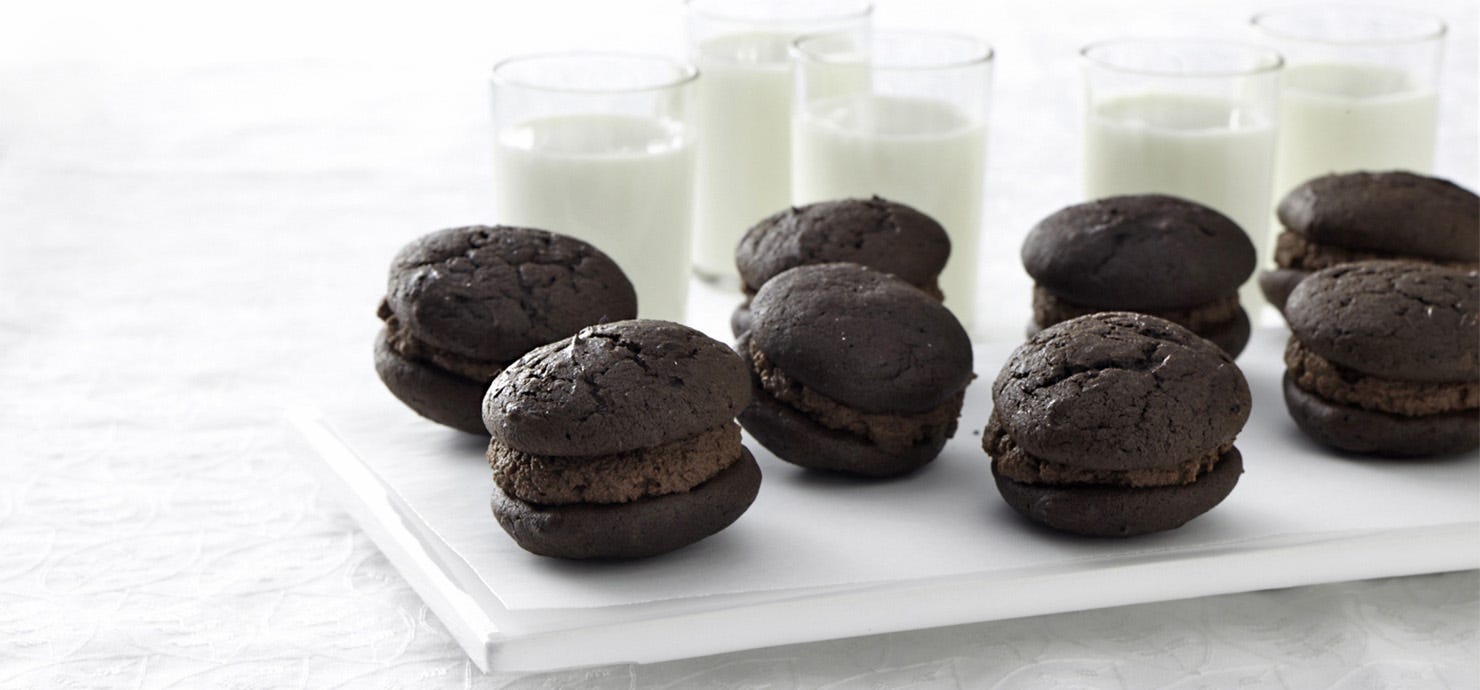 1-3⁄4 cups all-purpose flour
3⁄4 cup Ghirardelli Unsweetened Cocoa
1-1⁄2 teaspoons baking soda
1⁄2 teaspoon salt
1⁄4 cup plus 1 tablespoon vegetable shortening
1⁄2 cup granulated sugar
1⁄2 cup packed dark-brown sugar
1 large egg
1 cup whole milk
2 teaspoons pure vanilla extract
For Filling:
8 ounces Ghirardelli 60% Cacao Bittersweet Chocolate Baking Chips
1 cup heavy cream
1⁄8 teaspoon coarse salt
Preheat oven to 375°F. Stir together flour, Ghirardelli Unsweetened Cocoa, baking soda, and salt in a medium bowl.

Beat shortening and sugars with a mixer on high speed, until smooth, about 3 minutes. Add egg, and beat until mixture is pale and fluffy, about 2 minutes more.

Reduce speed to low. Add flour mixture in 2 additions, alternating with milk and vanilla, beginning and ending with flour.

Drop mounds of dough (about 2 teaspoons each) onto parchment-lined baking sheets, spacing each 2 inches apart. Bake until cookies spring back when lightly touched, 12 to 14 minutes. Let cool on sheets set on wire racks 10 minutes. Transfer cookies to racks, and let cool completely.

FILLING - Bring cream just to a boil over medium-high heat. Pour over Ghirardelli 60% Cacao Bittersweet Chocolate Baking Chips and add salt. Let stand 10 minutes (do not stir; doing so will cool the ganache too quickly, making it grainy).

Whisk ganache until smooth and shiny. Scrape dish with a rubber spatula to incorporate all of it. Chill ganache, stirring often, for 45 minutes to 1 hour. Beat with a mixer on medium-high speed until paler and fluffy, for 2 to 4 minutes.

Transfer whipped ganache to a disposable pastry bag, and snip a 1/2-inch opening. Pipe ganache (2 to 2-1/2 teaspoons each) onto flat sides of half the cookies. Sandwich with remaining cookie, pressing gently.