Chocolate Nut Biscotti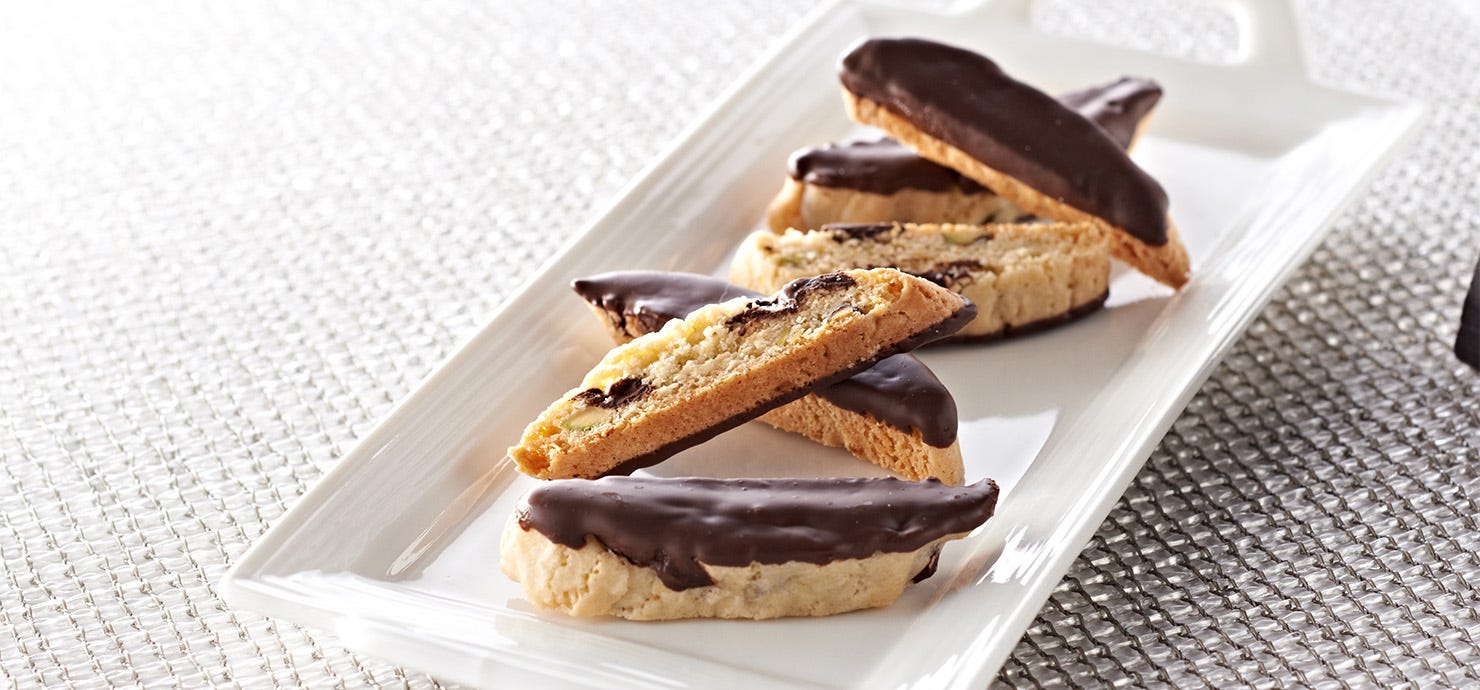 4 ounces Ghirardelli 60% Cacao Bittersweet Chocolate Baking Bar
2 large eggs
2 tablespoons instant coffee
1 teaspoon vanilla extract
2 cups all-purpose flour
1 1/2 teaspoons baking powder
1/4 teaspoon salt
1/2 cup butter or margarine, softened
3/4 cups granulated sugar
1 cup almonds, chopped
Preheat oven to 325ºF. Chop chocolate baking bar and set aside. Lightly butter and flour a large baking sheet.

In a small bowl, stir the eggs, instant coffee, and vanilla until well blended, and set aside. In a medium bowl, mix the flour, baking powder, and salt, and set aside.

In a large bowl, beat the butter and sugar with an electric mixer on medium speed until light and fluffy. Beat in the egg mixture. Gradually add the flour mixture, beating well after each addition. Stir in the nuts and chocolate (finely chopped).

Divide the dough into 2 equal portions. On a lightly floured surface, shape the dough into 2 logs, each 14" long x 1 1/2" wide x 1" thick. Place the logs 5 inches apart on the prepared baking sheet.

Bake for 25 minutes or until lightly browned. Set the baking sheet on a wire rack to cool for 10 minutes.

Remove the logs from the baking sheet, and place on a cutting board. Using a serrated knife, cut each log diagonally into 3/4-inch-thick slices. Place the slices upright and 1/2 inch apart on the baking sheet.

Bake for 12 to 15 minutes or until slightly dry.

Remove the biscotti from the baking sheet. Cool completely on the wire rack. Store in a tightly covered container.

FOR CHOCOLATE-DIPPED BISCOTTI: Melt 8 ounces (2 bars) of Ghirardelli 60% Cacao Bittersweet Chocolate Baking Bars according to melting instructions on the package.

Dip each of the biscotti halfway into the melted chocolate. Let the excess chocolate drip off.

Place the biscotti on a waxed paper-lined tray. Refrigerate until the chocolate is firm.