Chocolate Gingerbread Men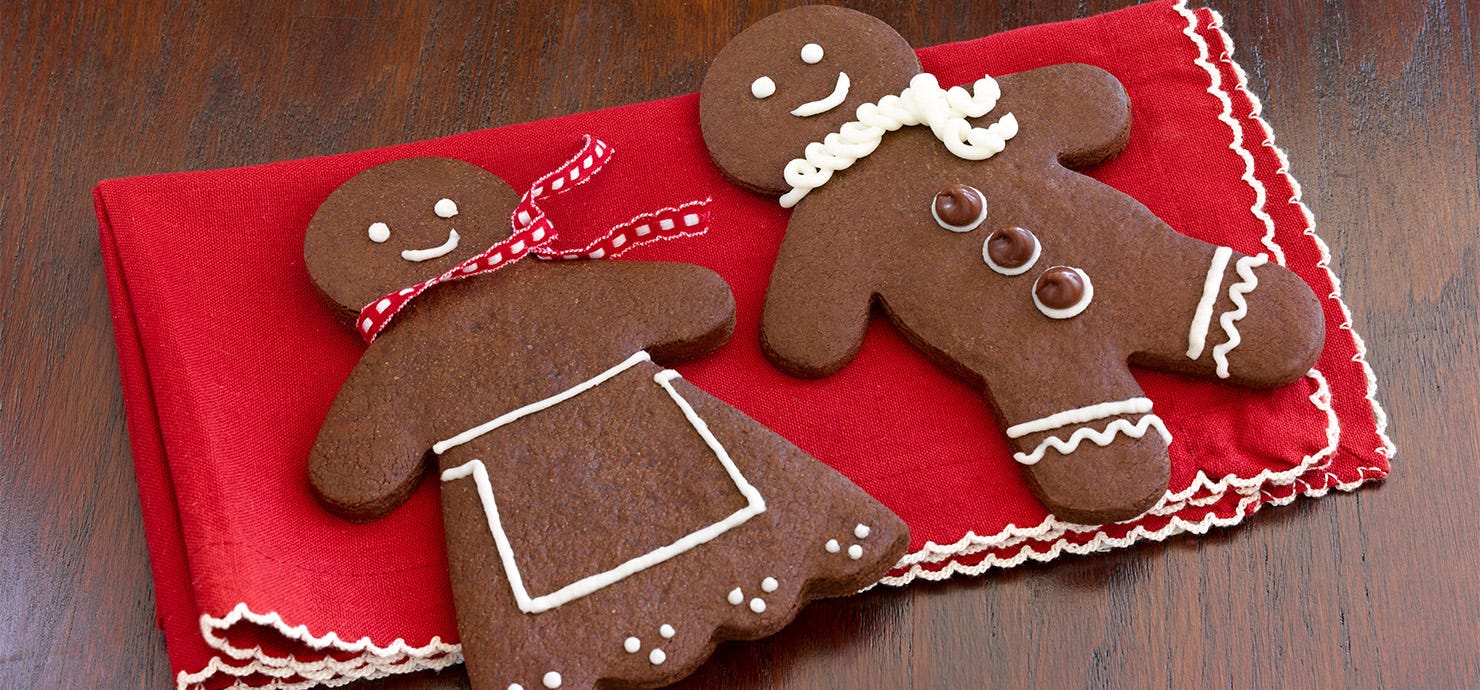 4 ounces Ghirardelli 60% Cacao Bittersweet Chocolate Baking Bar
1/2 cup Ghirardelli Unsweetened Cocoa Powder
3 cups all-purpose flour
1 teaspoon baking soda
1/4 teaspoon salt
3/4 cup unsalted butter, at room temperature
1/2 cup firmly packed dark brown sugar
1/2 cup granulated white sugar
2 tablespoon ground ginger
2 tablespoon ground cinnamon
1/2 teaspoon ground cloves
1/4 teaspoon ground nutmeg
1/4 cup molasses
1 large egg
Melt the chocolate in the top of a double boiler or in a heatproof bowl over simmering water, stirring occasionally until smooth. Set aside to cool.

In a large bowl, sift together the flour, cocoa, baking soda, and salt. Set aside.

In a large bowl with an electric mixer on medium speed, beat the butter, brown sugar, white sugar, ginger, cinnamon, cloves, and nutmeg until the mixture is light and fluffy, about 2 minutes. Add the molasses, egg, and melted chocolate and continue beating on medium speed for an additional 2 minutes. On low speed, slowly add the dry ingredients and mix just until combined.

Transfer the dough to a flat surface and flatten into a disk. Cover with plastic wrap and chill in the refrigerator for at least hour, or up to 5 days.

Preheat the oven to 350ºF. Line two cookie sheets with parchment paper.

Divide the chilled dough into four equal quarters, leaving three quarters in the refrigerator. Lightly flour a flat work surface and roll out one piece of dough to a thickness of about 1/8 inch. Using a small (2 to 2 1/2 –inch) gingerbread man or woman cookie cutter, cut out as many cookies as possible. Place the cookies on the prepared cookie sheets, about 1 inch apart. Gather all the dough scraps into a ball and place in the refrigerator.

Take out another quarter of the dough, and continue rolling out the dough and cutting cookies until all the dough has been used.

Bake the cookies for 8 to 10 minutes until slightly raised.

Using a spatula, remove the cookies from the cookie sheets, transferring to a wire rack to cool.

Use frosting to decorate as desired. These also make fun sandwich cookies. For a nice contrast, use the White Chocolate Frosting recipe to create a filling between two gingerbread men.