Chocolate Churros with Mexican Dipping Sauce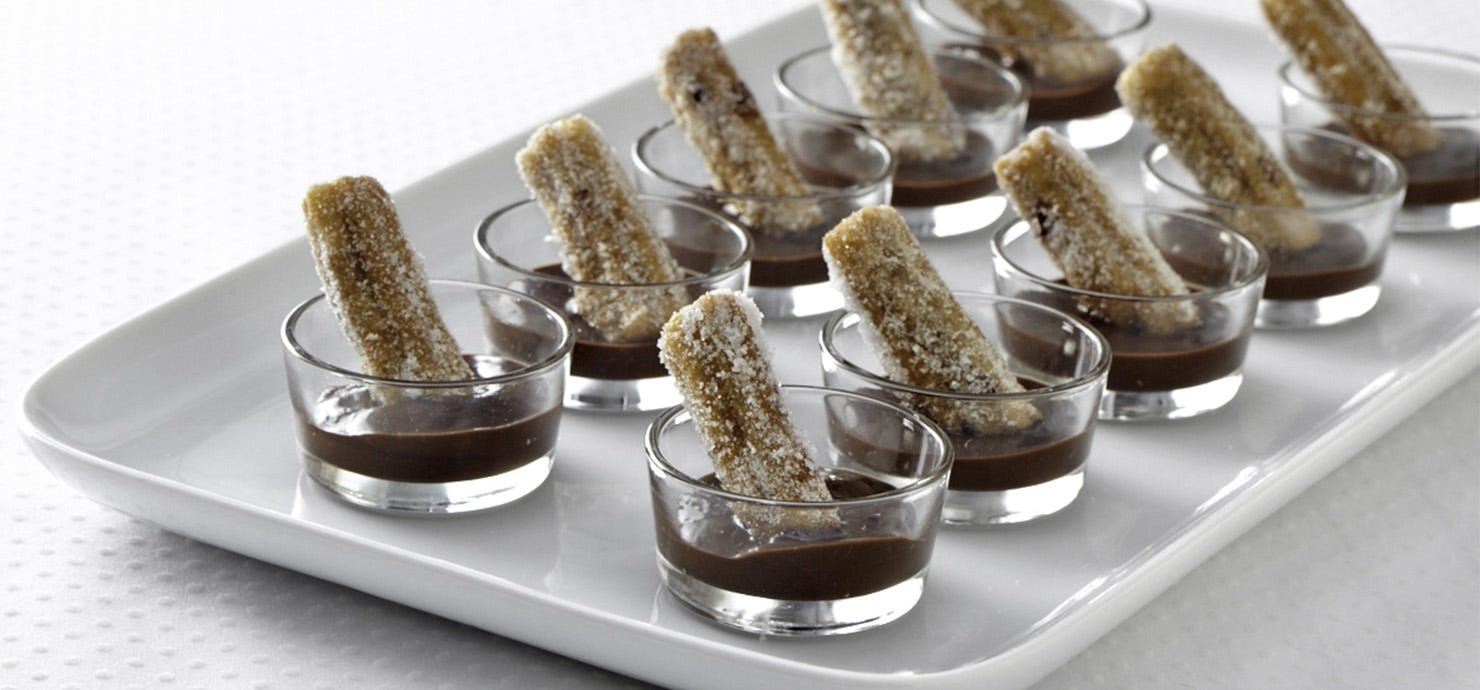 1⁄2 cup heavy cream
3⁄4 cup Ghirardelli 60% Cacao Bittersweet Chocolate Baking Chips, divided
2 tablespoons light corn syrup
1 tablespoon grated orange zest
1⁄4 teaspoon cayenne powder
1⁄2 cup whole milk
2 tablespoons unsalted butter
1 tablespoon granulated sugar, plus 1/4 cup for garnish
1⁄4 teaspoon salt
1⁄2 cup all-purpose flour
2 large eggs
3 cups canola oil, for frying
Make dipping sauce: Heat heavy cream over medium heat until just about to boil. Remove from heat and add 1/2 cup Ghirardelli Bittersweet Chocolate Baking Chips and corn syrup and cover. Let sit for 1 minute and then whisk until smooth. Stir in orange zest and cayenne powder. Set aside until ready to serve and warm over low heat if necessary.

Finely chop remaining 1/4 cup Ghirardelli 60% Bittersweet Baking Chips and set aside.

Make churros: In a medium saucepan, heat milk, butter, 1 tablespoon sugar and salt over medium-high heat. Stir to dissolve sugar and bring to a boil. Reduce heat to medium low, add flour and stir vigorously with a wooden spoon about 1 minute until a shiny dough forms.

Transfer flour mixture to the bowl of a stand mixer and let cool 4 minutes. On low speed, beat in eggs, one at a time until a smooth, shiny dough forms. Mix in chopped Ghirardelli baking chips and transfer to a pastry bag fitted with a large star tip*.

Heat oil in a large skillet to 350° F. Carefully pipe batter into hot oil into 2-inch long sections, using a knife to cut batter at end of tip and allowing batter to slide into oil. Fry until golden brown, about 3 to 4 minutes. Using a metal slotted spoon, transfer to paper towels to drain.

Roll churros in remaining granulated sugar. Serve immediately with Mexican dipping sauce.

If you don't have a pastry bag, use a quart size Ziplock bag to "pipe" churros. Fill bag with batter and cut one of the corners about 1/4-inch so you have a hole to pipe out of.