Chocolate Checkerboard Cookies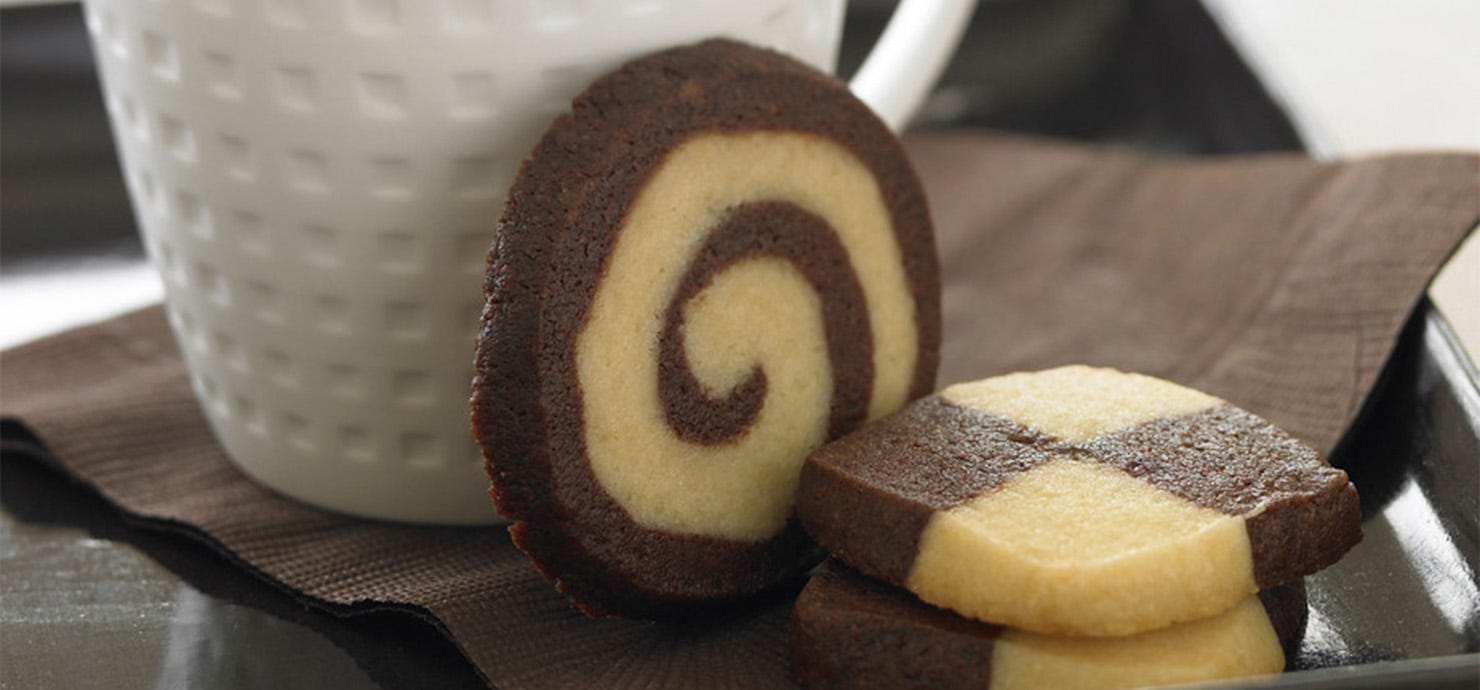 Servings: 13 dozen cookies
4 ounces Ghirardelli 60% Cacao Bittersweet Chocolate Baking Bar
3 tablespoons Ghirardelli Unsweetened Cocoa
3 cups all purpose flour
1/2 teaspoon salt
1/4 teaspoon baking soda
1 1/4 cups unsalted butter, at room temperature
1 1/4 cups white granulated sugar
1 large egg
1 1/2 teaspoons pure vanilla extract
1 teaspoon instant espresso powder
2 tablespoons boiling water
Sift together the flour, salt, and baking soda. Set aside.

Break or chop the bittersweet chocolate into 1-inch pieces. Melt the bittersweet chocolate pieces in the top of a double boiler or in a heatproof bowl, over barely simmering water, stirring occasionally until smooth. Set aside.

In a large bowl, cream the butter with an electric mixer on medium-to-low speed until smooth, about 2 minutes. Mix in the sugar and beat for an additional 2 minutes. Add the egg and vanilla, mixing well until combined. Reduce the speed to low and add the flour mixture in two additions, mixing until just incorporated. Separate out 2 cups of the dough and set aside.

Dissolve the espresso powder in the boiling water and set aside to cool. Once cool, mix the espresso and cocoa into the remaining dough until the dough is uniformly colored.

On low speed, add in the melted chocolate, mixing until thoroughly combined.

Divide the dough into four equal pieces, two of each flavor. Shape each of the four pieces into a rectangular log 10 inches long, 3 inches wide, and 3/4 inches thick. Wrap each log tightly in parchment paper and chill in the refrigerator for at least 30 minutes.

Cut each log into four quarters lengthwise, giving you 16 strips 10 inches long, 3/4 inches wide, and 3/4 inches thick.

To form a checkerboard rectangle, place a chocolate strip and a vanilla strip side by side, and then place another vanilla strip on top of the chocolate strip and another chocolate strip on top of the vanilla strip. The checkerboard log should be about 10 inches long, 1 1/2 inches wide, and 1 1/2 inches thick. Repeat with the other 12 strips to make 3 more logs. Repeat until you have four checkerboard rectangles.

Chill all the dough for at least 3 hours.

Preheat oven to 350ºF. Line two cookie sheets with parchment paper.

Make sure the dough is firm enough to slice, and use a sharp knife to slice each rectangle into 1/4-inch squares and place 1 inch apart on the prepared baking sheet.

Bake for 12 to 13 minutes, making sure not to brown the edges too much. Remove the cookies from the oven, and let stand for 1 minute.

Transfer to wire racks and let cool completely. Store in an airtight container at room temperature for up to a week.