Bittersweet Chocolate Gingerbread Scones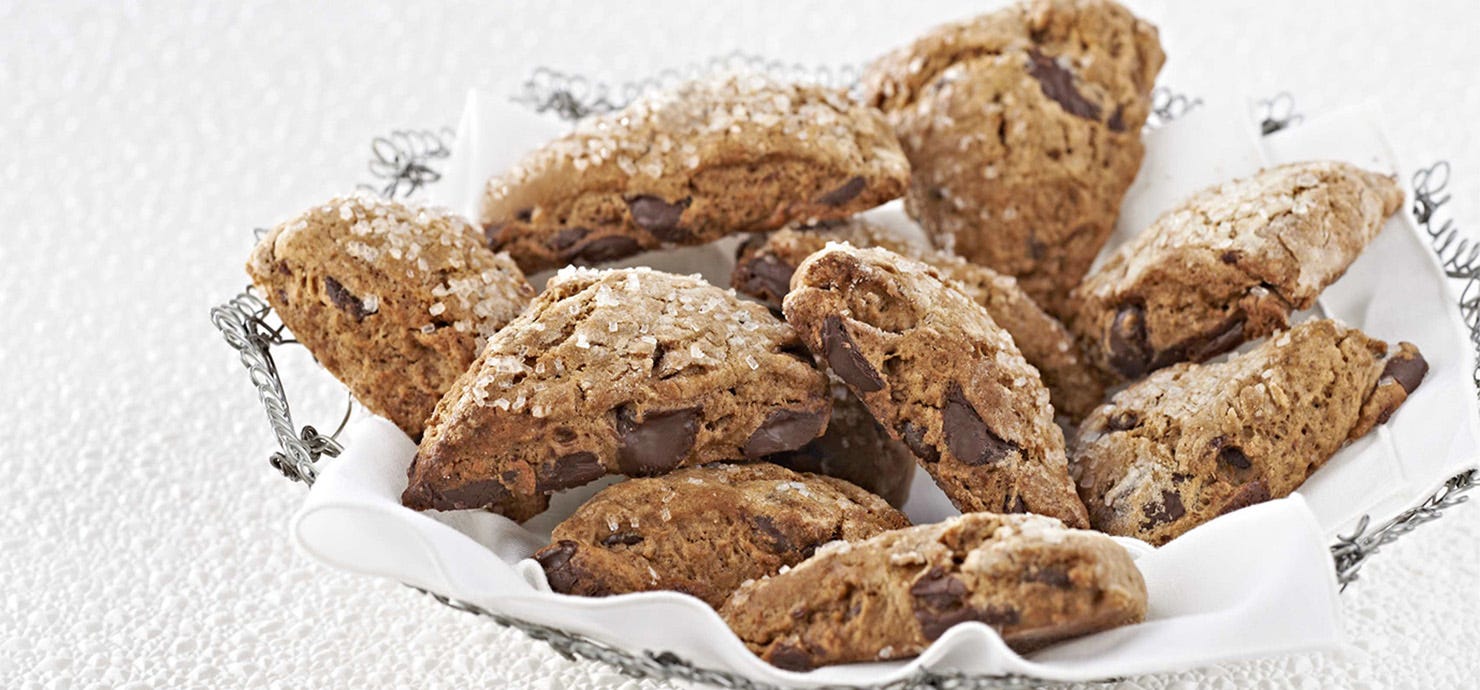 2-1⁄4 cups all-purpose flour
1⁄3 cup packed brown sugar
2 teaspoons ground ginger
2 teaspoons ground cinnamon
2 teaspoons baking powder
1 teaspoon ground nutmeg
1⁄4 teaspoon baking soda
1⁄2 teaspoon salt
1⁄3 cup cold unsalted butter
1-1⁄2 cups Ghirardelli 60% Cacao Bittersweet Chocolate Baking Chips
1⁄2 cup whipping cream
1⁄4 cup mild-flavor molasses
2 large eggs, lightly beaten
Whipping cream
1 tablespoon coarse decorating sugar or granulated sugar
Directions

Preheat oven to 400°F. Line 2 baking sheets with parchment paper or foil; set aside.
In a large bowl, stir together flour, brown sugar, ginger, cinnamon, baking powder, nutmeg, baking soda, and salt. Using a pastry blender or two knives, cut in butter until mixture resembles coarse crumbs. Stir in Ghirardelli 60% Cacao Bittersweet Chocolate Baking Chips.
In a small bowl, combine the 1/2 cup whipping cream, the molasses, and eggs; add all at once to the flour mixture. Using a fork, stir until ingredients are just combined.
Turn dough to a well-floured surface. Knead dough by folding and gently pressing for 10 to 12 strokes or until dough is nearly smooth (dough will be soft and slightly sticky). Divide dough into four pieces. Pat or lightly roll each piece of dough into a 1/2-inch thick circle on the prepared baking sheets. Cut each circle into 8 wedges. If desired, separate wedges.
Brush tops with additional whipping cream and sprinkle with coarse sugar. Bake on the middle oven rack for 12 to 14 minutes or until golden. Enjoy immediately, store in an airtight container at room temperature for up to 3 days, or freeze for up to 3 months.