Ghirardelli Double Chocolate Shortbread Cookie with Peppermint Bark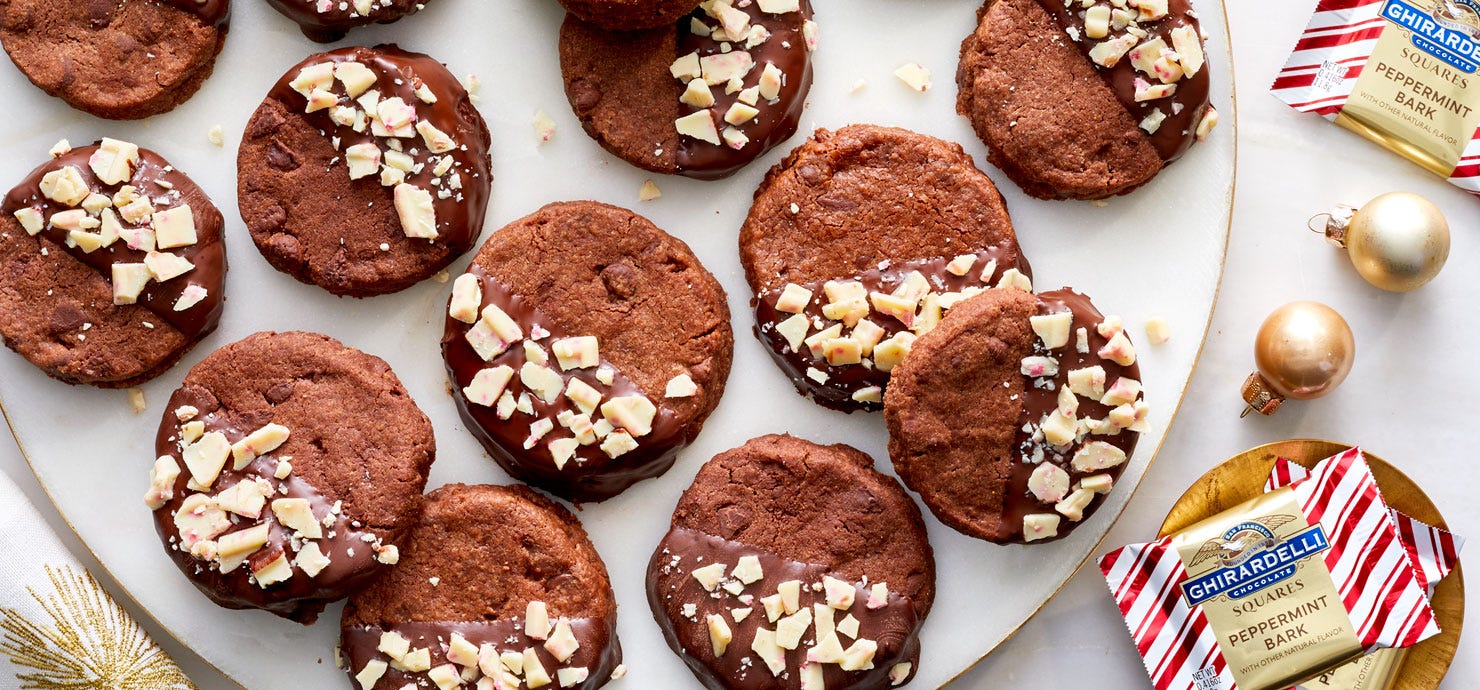 1 cup (8 oz.) cold salted butter, cubed
1 cup granulated sugar
1 tsp. vanilla extract
2 1/4 cups (about 10 1/4 oz.) all-purpose flour
Optional for decoration: 1 (12-oz.) pkg. Ghirardelli semi-sweet chocolate chips; or 1 (10-oz.]) pkg. Ghirardelli bittersweet chocolate chips; Ghirardelli Peppermint Bark, sparkling sugar, or gold sprinkles
Beat butter, sugar, and vanilla in bowl of a heavy-duty stand mixer* fitted with a paddle attachment on low speed just until blended and creamy, 3 to 5 minutes. With mixer running on low speed, gradually add flour and cocoa, and beat until dough comes together, about 1 minute, stopping to scrape down sides of bowl as needed. Beat in chocolate chips on low speed until just combined.

Divide dough in half, and roll each half into a compact 2-inch-thick log (about 8 inches long). Wrap each log in parchment paper or plastic wrap, and freeze just until firm (but not frozen solid), about 25 minutes.

Preheat oven to 350°F. Line 2 large rimmed baking sheets with parchment paper. Remove cookie dough logs from freezer, and unwrap. Using a sharp serrated knife and a sawing motion, cut cookie dough into 1/2-inch-thick rounds. (If rounds crumble slightly, press dough back together.) Place rounds on prepared baking sheets, spacing cookies about 2 inches apart.

Bake, 1 baking sheet at a time, in preheated oven until firm, 15 to 18 minutes. Let cool completely on baking sheets, about 20 minutes.

To decorate, place 1 (12-oz.) pkg. Ghirardelli semi-sweet chocolate chips (or 1 [10-oz.] pkg. Ghirardelli bittersweet chocolate chips) in a medium-size microwavable bowl. Microwave on HIGH until chocolate is melted and smooth, about 1 minute, stirring at 30-second intervals. Dip each cookie halfway into melted chocolate, and place on parchment paper-lined baking sheets. Sprinkle cookies with 4 oz. chopped Ghirardelli Peppermint Bark, sparkling sugar, or gold sprinkles. Refrigerate until chocolate has set, about 15 minutes.

Note: If you don't have a stand mixer and prefer to use a hand mixer, use room temperature butter, bake the full 18 minutes, and leave on baking sheets to cool.