Ghirardelli Mini Chocolate Chip Cakes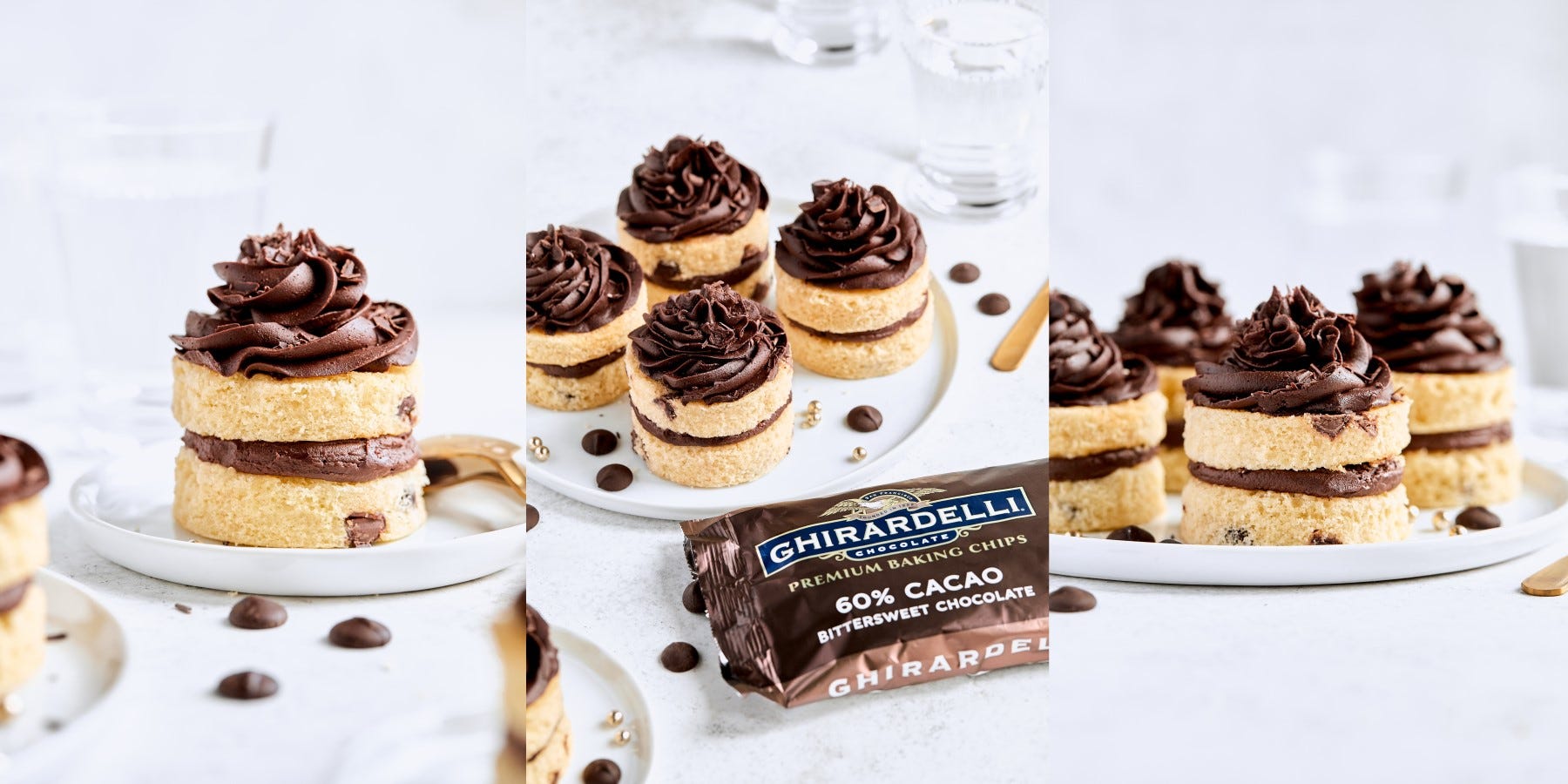 2 1/2 cups cake flour (see note below)
1 1/2 tsp baking powder
1/2 tsp baking soda
3/4 tsp salt
3/4 cup unsalted butter, at room temperature
1 1/2 cups sugar
1 Tbsp vanilla extract
2 large eggs, at room temperature
1 cup low-fat buttermilk, at room temperature
1/4 cup plain fat-free Greek yogurt, at room temperature
3/4 cup Ghirardelli 60% Cacao Bittersweet Chocolate Chips
1 1/2 cups unsalted butter, softened
3/4 tsp salt
1 cup Ghirardelli unsweetened cocoa powder, sifted
2 tsp vanilla extract
4 cups powdered sugar, divided
1/2 cup Ghirardelli 60% Cacao Bittersweet Chocolate Chips, melted and slightly cooled
5 Tbsp heavy cream
CAKE: Preheat oven to 350°F. Spray a 12 x 17-inch rimmed baking pan with nonstick spray and line the pan with parchment paper.

Whisk together cake flour, baking powder, baking soda, and salt in a medium bowl. Set aside 1 tablespoon of flour mixture.

Beat butter and sugar in a large mixer bowl at medium speed until light and fluffy; beat in vanilla. Add eggs one at a time and beat until combined. Combine buttermilk and Greek yogurt in a small bowl. Reduce speed to low and add flour mixture in 3 additions, alternating with buttermilk mixture (begin and end with flour mixture). Toss chocolate chips with reserved flour mixture and gently fold in.

Spoon batter into prepared baking pan and smooth with an offset spatula. Tap pan sharply to reduce air bubbles.

Bake for 22 to 26 minutes, until the top and edges are golden and a toothpick inserted in the center comes out clean. Cool cake completely in pan on a wire rack.

Once the cake is completely cool, chill the cake for 20 minutes in the refrigerator. Carefully lift the parchment to remove the cake from the pan and transfer to a cutting board. Use a 2 1/2 inch round cutter lightly coated with nonstick spray to punch out 24 circles.

FROSTING: Beat butter and salt in a large mixer bowl on medium speed until combined. With the mixer on low speed, gradually add sifted cocoa, beating until incorporated. Mix in vanilla. Mix in 2 cups powdered sugar on low speed, scraping down bowl as needed. Mix in melted chocolate chips until combined, then mix in remaining 2 cups powdered sugar. With the mixer on low speed, gradually add heavy cream until combined. Beat frosting on medium speed for 1 to 2 minutes, until light and airy.

ASSEMBLY: Transfer frosting to a large piping bag fitted with a large closed or open star tip. Pipe frosting over each round (both layers). Stack one frosted round over the other.