Chocolate Orange Brownie Bites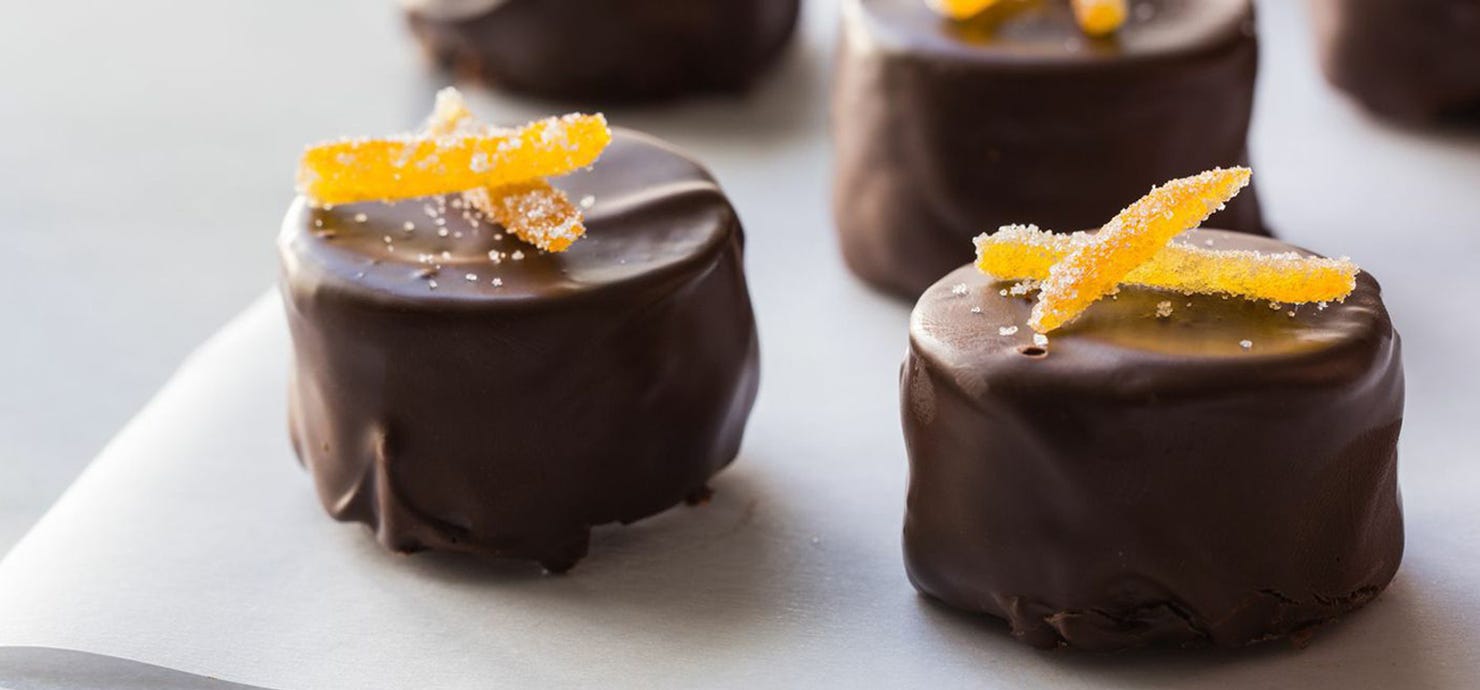 1 cup Ghirardelli® 60% Cacao Bittersweet Chocolate Baking Chips
3/4 cup unsalted butter, cut into cubes finely grated zest of one medium orange
1 cup granulated sugar
3 large eggs, lightly beaten
1 teaspoon pure vanilla extract
1 tablespoon orange liqueur, optional
1/4 teaspoon salt
1 cup all-purpose flour
1 12-ounce package
Ghirardelli Dark Melting Wafers
candied orange peel, optional
zest of one orange
Preheat oven to 350 °F.

Line an 8x8 inch baking pan with foil and spray with nonstick cooking spray.

Set aside. Microwave Ghirardelli 60% Cacao Bittersweet Chocolate Baking Chips and butter in a large bowl microwave-safe bowl at medium (50%) power.

Stir every 30 seconds until chocolate and butter are melted and smooth.

In a small bowl, combine orange zest and sugar, mixing with your fingertips until the sugar is fragrant and the zest is incorporated.

Add sugar, eggs, vanilla, orange liqueur (if using) and salt to the chocolate mixture and whisk to combine. Gradually add in flour; stir until just combined.

Spread brownie batter into prepared pan and bake in preheated oven for 30 minutes.

Remove pan to cooling rack to cool completely.

Once brownies are completely cooled, remove them from the pan and cut into 12 squares.

For a circular presentation, use a one and one-half inch biscuit cutter to cut out 12 brownie bites.

Line a baking sheet with parchment paper. Melt Ghirardelli Dark Melting Wafers according to package directions.

Place a brownie bite onto a fork and hold the fork over the bowl of melted Ghirardelli Dark Melting Wafers.

Spoon melted Ghirardelli Dark Melting Wafers over the top of the brownie bite, making sure the top and all sides are completely covered and smooth. Allow any excess to drip off, and carefully use a knife or fork to slide the candy-coated brownie onto the prepared baking pan.

If desired, top each brownie bite with a piece of candied orange peel and allow candy coating to set before serving.