Ghirardelli Chocolate Peanut Butter and Blackberry Tart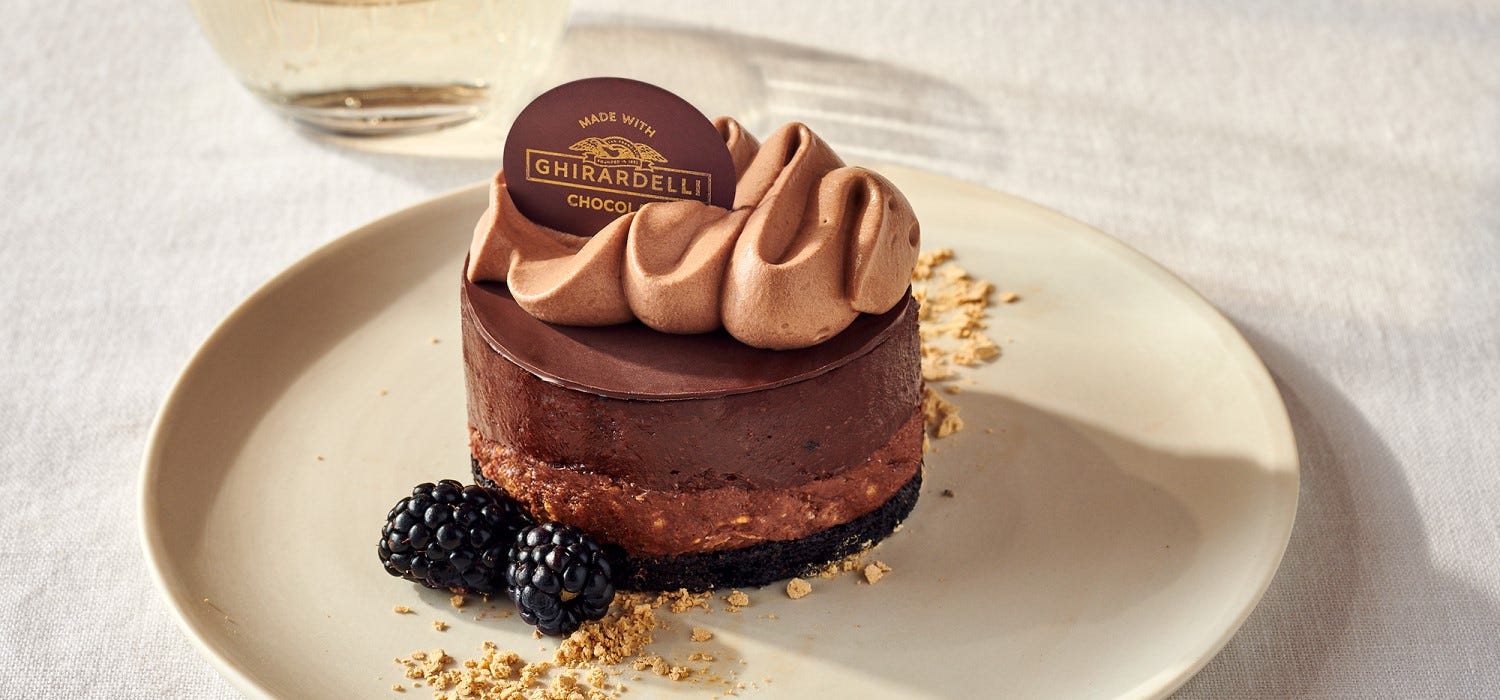 550 g Egg whites
460 g Granulated sugar
322 g Egg yolks
140 g Ghirardelli Midnight Cocoa Powder
1 pinch Salt
14 g Vanilla extract
223 g Ghirardelli 52% Cacao Non-Dairy Chocolate Chips
89 g Granulated sugar
4 drop Lemon juice
600 g Peanut butter
150 g Paillete feuilletine
640 g Oat milk
215 g Ghirardelli 52% Cacao Non-Dairy Chocolate Chips
1 each Vanilla bean, split and scraped
45 g Peanut butter
1 pinch Salt
4 each Gelatin sheets
181 g Egg yolks
181 g Eggs
207 g Granulated sugar
546 g Blackberry puree
4.5 g Gelatin sheets
385 g Ghirardelli 52% Cacao Non-Dairy Chocolate Chips
225 g Peanut butter
45 g Tapioca maltodextrin
500 g Ghirardelli 72% Cacao Chocolate Chips, tempered
50 each Fresh blackberry, for garnish
FLOURLESS SPONGE: Make a stiff meringue with the egg whites and sugar in a 8qt. mixer.

Whisk the yolks and vanilla extract to make fluid, then fold into the meringue along with the salt.

Sift the cocoa powder into the eggs while folding together.

Spread onto a parchment lined full sized sheet pan.

Bake at 325°F for 18-20 minutes.

CHOCOLATE PEANUT BUTTER CARAMEL CRISPY: Place chocolate in a mixer fitted with a paddle.

Prepare a caramel using the dry method.

With the mixer on low speed, slowly stream in the caramel.

Add the peanut butter and mix to combine.

Fold in the paillete feuilletine.

NON-DAIRY CHOCOLATE PEANUT BUTTER CHANTILLY: Bring the oat milk and vanilla bean to a simmer. Pour half onto the chocolate and whisk to emulsify.

Add the gelatin and stir until melted.

Add the remaining oat milk and peanut butter and homogenize with an immersion blender.

Cool to 70°F.

Place in an ISI canister and charge two times.

Refrigerate overnight before use.

NON-DAIRY CHOCOLATE BLACKBERRY CREMEUX: Heat the egg yolks, eggs, sugar and blackberry puree to 160°F, whisking until thick.

Remove from heat and add the gelatin and chocolate.

Blend to homogenize.

Cool to 100°F. Use immediately as the mixture cools the gelatin will start to set. If mixture cools down below 100°F, rewarm to get to desired temperature.

PEANUT BUTTER POWDER: Mix ingredients until a powder is formed.

ASSEMBLY: Cut out circles of the sponge to fit a 2.5" tart ring. Place "skin" side down.

Spread 20g of the crispy base on each piece of cake.

Portion 30g of the cremeux into each tart ring.

Tap each tart to level.

Freeze overnight.

De-mold while frozen and defrost in the refrigerator.

Place a 2.75" chocolate disk, made with tempered Ghirardelli 72% chocolate, on top of the tart.

Garnish with the Chantilly, blackberry pieces and peanut butter powder.