Caramel S'mores Pie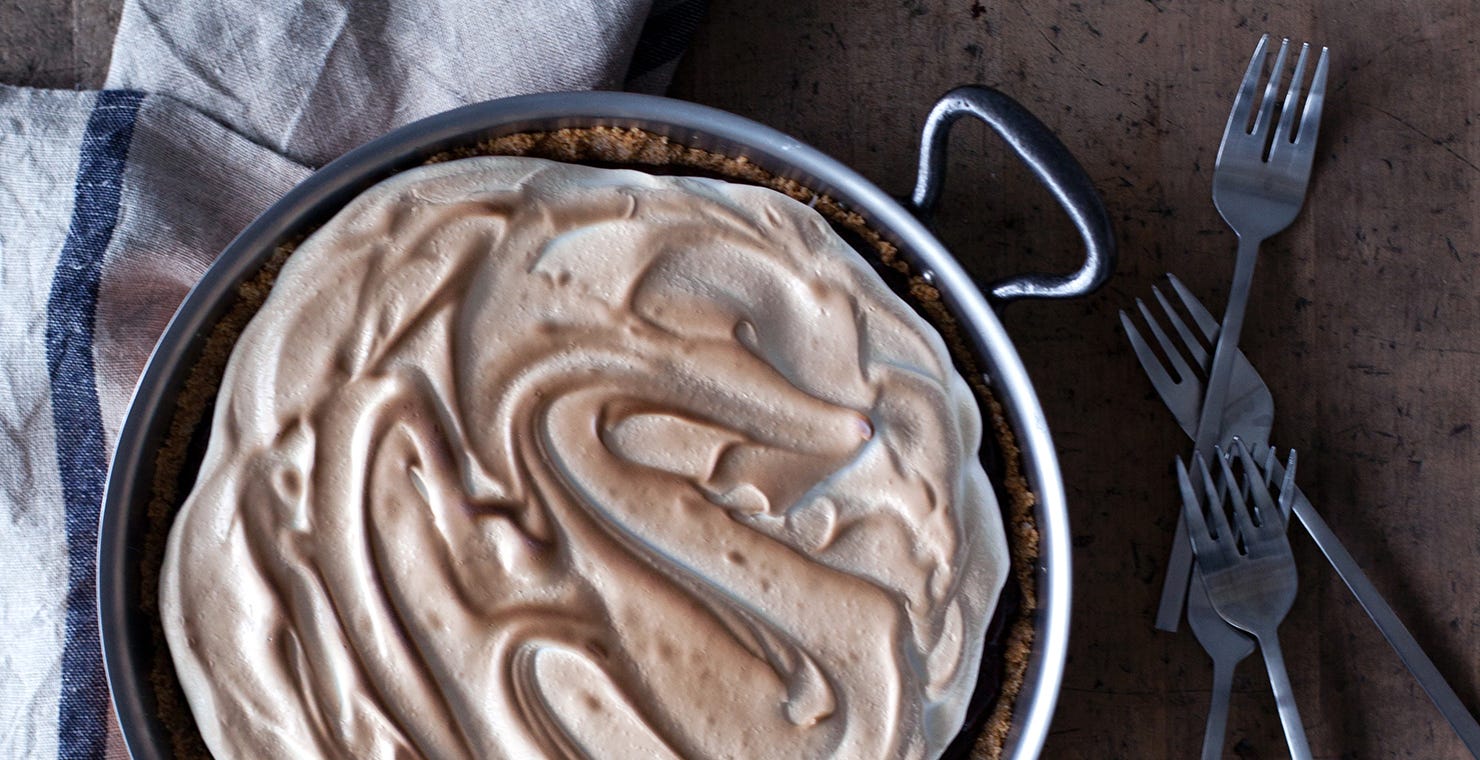 2 1/2 cups Graham cracker crumbs
1/2 cup Unsalted butter, melted
1/2 cup White sugar
1/8 teaspoon Salt
1 teaspoon Pure vanilla extract
2 cups Whole milk
1 cup Whipping cream
1 1/2 cup White sugar
1/4 cup Cornstarch
1/2 teaspoon Sea salt
4 large Egg yolks (save the whites for the meringue topping)
4 ounces (8 SQUARES) Ghirardelli Dark Chocolate 72% Cacao SQUARES
4 ounces (8 SQUARES) Ghirardelli Dark Chocolate Salted Caramel Crunch SQUARES
1 teaspoon Pure vanilla extract
3 tablespoons Unsalted butter
4 large Egg whites
1 cup White sugar
1 teaspoon Pure vanilla extract
GRAHAM CRACKER CRUNCH: In a mixing bowl combine graham cracker crumbs, butter, sugar, salt & vanilla. stir until combined.

Press the mixture firmly into a greased pie dish creating a 1-inch crust around the edges.

Bake at 350 degrees for 10 minutes & let cool completely before adding the chocolate filling.

CHOCOLATE CARAMEL FILLING: In a saucepan add milk, cream, sugar, cornstarch, sea salt & egg yolks. whisk until the egg yolks have broken up.

Cook over medium heat, constantly stirring until mixture thickens.

Remove from heat & immediately stir in dark chocolate, caramel chocolate, vanilla extract & butter until silky smooth.

Pour into pre-baked graham cracker crust & let set in the fridge for 2-4 hours.

MARSHMALLOW MERINGUE: When ready to serve, prepare the marshmallow meringue.

In the bowl of a stand mixer with the whisk attachment add the egg whites. Whip until soft peaks form. Gradually add the sugar & vanilla. Whip until stiff peaks form.

Spread over pie & using the broiler or a torch brown the top until golden brown to resemble a toasted marshmallow. Serve this s'mores pie immediately!