Ghirardelli Peppermint Bark Tree Cookies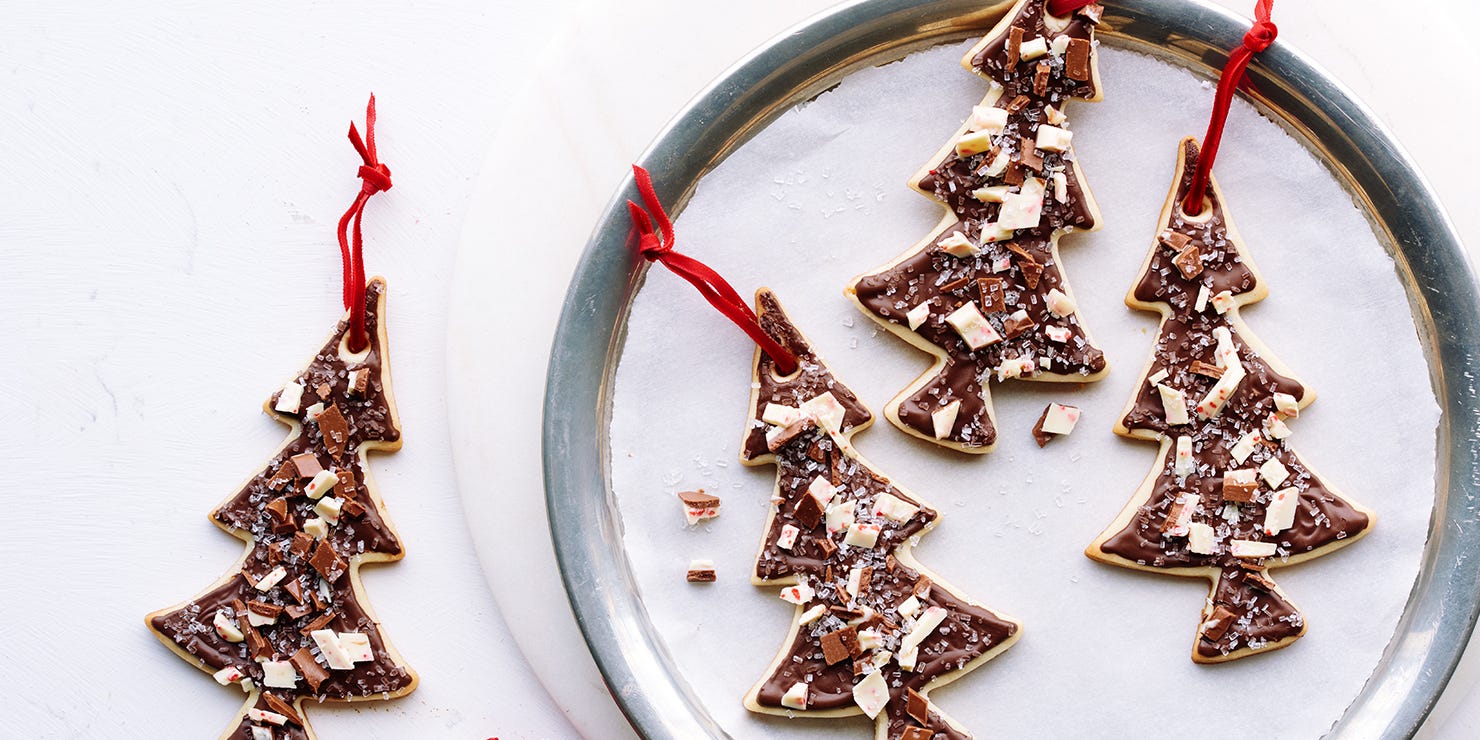 Servings: 1 Dozen Cookies
1 cup Butter, soft
1 cup Confectioner's sugar
1 Egg
1 teaspoon Vanilla
3 cups Flour, plain
Pinch Salt
1 3/4 cups (10 oz) Ghirardelli 60% Cacao Bittersweet Chocolate Chips or Baking Bar chopped
1 cup Ghirardelli Peppermint Bark (SQUARES or Baking bar) crushed into small bits
Christmas Tree shaped cookie cutter
Chopstick for making a hole
Rolling pin
Food processor or large mixing bowl
Baking trays
Ribbon for tying the biscuits on the tree -optional
Preheat oven to 375°.

Using a food processor, blitz all the cookie ingredients together until big lumps start to form and then bring together with your hands into a large ball. (If you don't have a food processor you can do this by rubbing the flour and butter together with your fingertips, add the rest of ingredients and bring it all together with your hands).

Wrap ball in cling wrap and chill in the fridge for 1 hour.

Once chilled and firm, lightly flour a work surface and rolling pin, cut dough in half and place the other half back in the fridge while you roll out the first batch.

Roll out dough until about ½ cm thick, cut out with Christmas shapes.

If you want to hang the cookies on the tree make sure to poke a hole in the top, using a chopstick.

Place cookies carefully on a non-stick baking tray and bake in the oven for 7 - 8 minutes.

Leave to cool on the trays for 2 minutes then transfer them onto a wire rack to cool.

For the frosting, melt the chocolate baking chips or baking bars and coat the cooled cookies on one side.

While the chocolate is still wet sprinkle with the crushed Peppermint Bark and sparkles.

Leave to set somewhere cool, and then tie a ribbon or piece of string through each cookie and hang on your Christmas Tree.