Pumpkin Chocolate Swirl Cake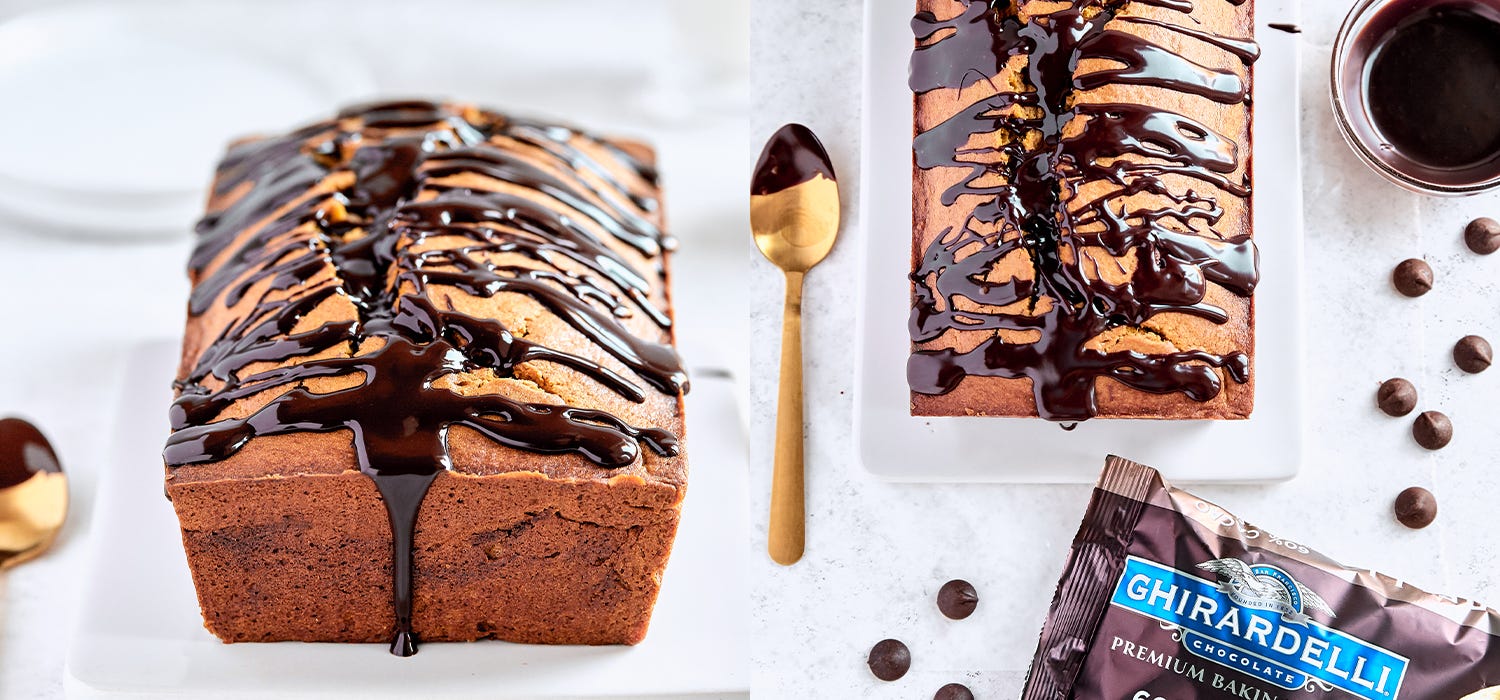 2 1/2 cups Cake flour, see note below
3/4 teaspoon Baking soda
3/4 teaspoon Baking powder
1/4 teaspoon Cinnamon
1/4 teaspoon Ginger
1/4 teaspoon Cloves
1/4 teaspoon Nutmeg
1/2 teaspoon Salt
10 tablespoons Butter, unsalted, room temperature
1 1/4 cups Sugar
2 Eggs, large, room temperature
1 teaspoon Vanilla
1/2 cup Buttermilk, reduced fat, room temperature
1 cup Pumpkin, pure
1/2 cup Ghirardelli 60% Cacao Bittersweet Chocolate Chips, melted, slightly cooled
1/4 cup Ghirardelli Semi-sweet Chocolate Chips
1/2 cup Ghirardelli 60% Cacao Bittersweet Chocolate Chips, melted, slightly cooled
1/4 cup Ghirardelli Semi-sweet Chocolate Chips
1/2 cup Cream, heavy
Preheat oven to 350°F and spray a 9 x 5-inch loaf pan with nonstick spray. Whisk together cake flour, baking powder, baking soda, spices, and salt in a medium bowl.

Beat butter and sugar in a large mixer bowl on medium speed until light and fluffy; beat in vanilla. Reduce speed to low and add eggs one at a time. Combine pumpkin and buttermilk in a small bowl. Beat in flour mixture in three additions, alternating with pumpkin mixture (begin and end with flour mixture), just until incorporated.

Transfer 1 cup of pumpkin batter to a separate bowl and fold in melted bittersweet chocolate until fully incorporated; fold in semi-sweet chocolate chips.

Spoon half of the remaining pumpkin batter into prepared pan and smooth with an offset spatula. Tap pan sharply to reduce air bubbles. Spoon chocolate batter over the pumpkin layer, smoothing with an offset spatula. Spoon remaining pumpkin batter over the chocolate layer, smoothing with an offset spatula. Tap pan sharply again.

Bake for 65 to 70 minutes, until the top is golden, the edges are pulling away from the side of the pan, and a tester inserted in the center comes out clean or with a few crumbs attached. Cool in pan on a wire rack for 15 minutes; carefully remove from pan and cool completely on wire rack.

For the ganache topping, place bittersweet chocolate chips and semi-sweet chocolate chips in a medium bowl. Pour heavy cream into a small saucepan and bring just to a boil over medium-high heat. Pour warm heavy cream over chocolate and let stand for 2 minutes before stirring until smooth.

Let ganache stand for 10 minutes to thicken slightly, then drizzle over the top of the cooled cake. Let set before serving. If desired, serve slices with extra ganache.