White Chocolate Caramel S'mores Brownies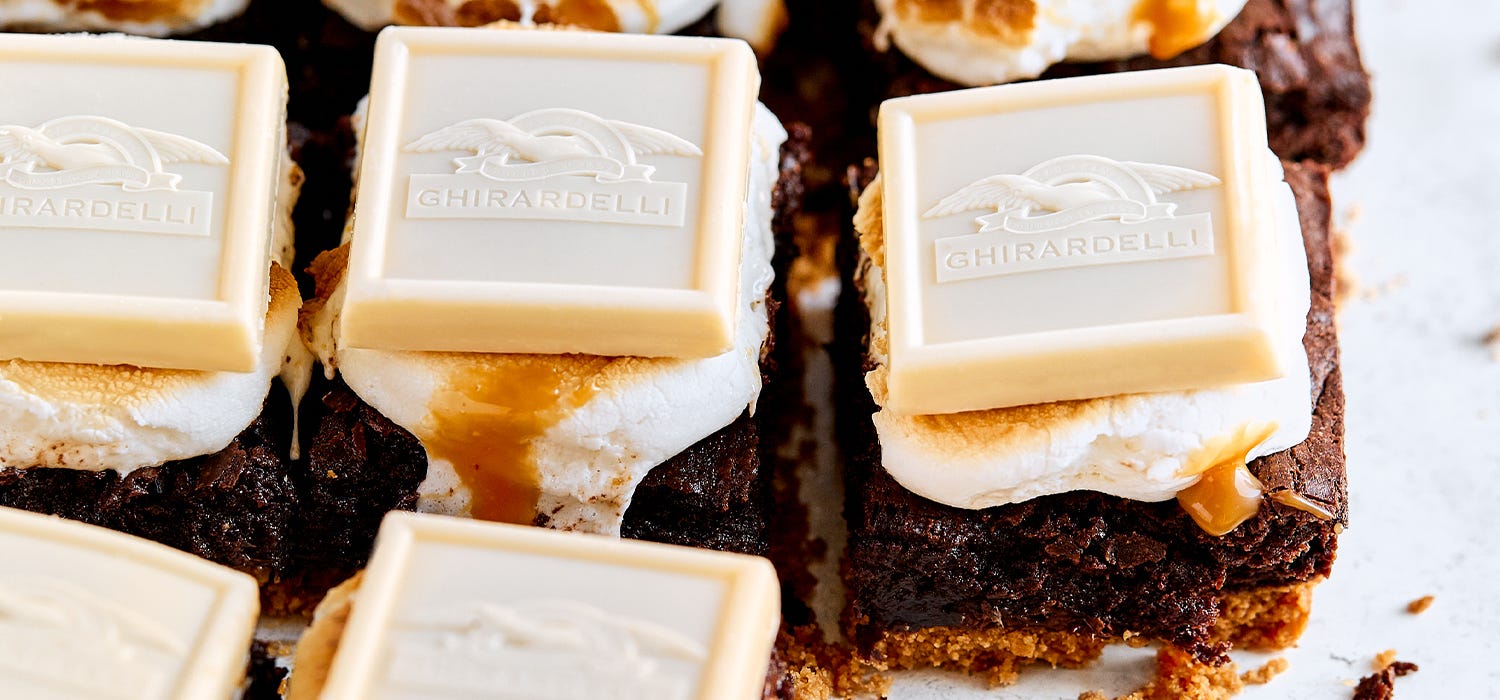 14 Graham crackers (8 oz)
1/8 teaspoon Salt
6 tablespoons Butter, unsalted, melted
1/2 teaspoon Vanilla extract
3/4 cup Flour
1/4 cup Ghirardelli Unsweetened Cocoa
1/4 teaspoon Salt
1/2 cup Butter, unsalted, cubed
6 oz Ghirardelli Semi-Sweet Chocolate Baking Bars, finely chopped
1/2 cup Sugar
1/2 cup Light brown sugar, lightly packed
2 Eggs, large, at room temperature
1 Egg yolk, large, at room temperature
1 1/2 teaspoons Vanilla extract
1/2 cup Ghirardelli Semi-Sweet Chocolate Chips
Marshmallows
Ghirardelli White Chocolate Caramel SQUARES
Preheat oven to 350°F and line an 8-inch square metal baking pan with parchment paper.

For the crust, combine graham crackers and salt in a food processor and pulse together to form fine crumbs. Add melted butter and vanilla and pulse until completely incorporated. Firmly press mixture tightly and evenly into bottom of prepared pan.

Bake crust for 15 to 17 minutes, until deeply golden and set. Transfer to a wire rack to cool completely.

For the brownie layer, whisk together flour, cocoa, and salt in a medium bowl. Place butter and chopped chocolate in a double boiler or in a heat-proof bowl over a saucepan of simmering water. Gradually melt the butter and chocolate, stirring until completely melted and smooth.

Remove chocolate mixture from the heat and whisk in sugars until smooth. Whisk in eggs and egg yolk one at a time, until combined. Whisk in vanilla. Add flour mixture and fold in just until no streaks remain. Fold in chocolate chips.

Pour batter over cooled graham cracker crust and smooth the top with an offset spatula.

Bake brownies for 30 to 32 minutes, until the top is set and a toothpick inserted in the center comes out with a few crumbs attached. Remove from oven and place on a wire rack to cool completely.

Once brownies have cooled, transfer pan to the freezer and chill for 10 minutes. Use parchment to carefully lift brownies from the pan and place on a baking sheet.

Top brownies with marshmallows and place baking sheet under the broiler, toasting the marshmallows until golden. Carefully remove baking sheet from the oven and place on a wire rack to cool slightly before topping with Ghirardelli White Chocolate Caramel SQUARES. Cut into squares with a sharp knife.