Double Chocolate Chip Bundt Cake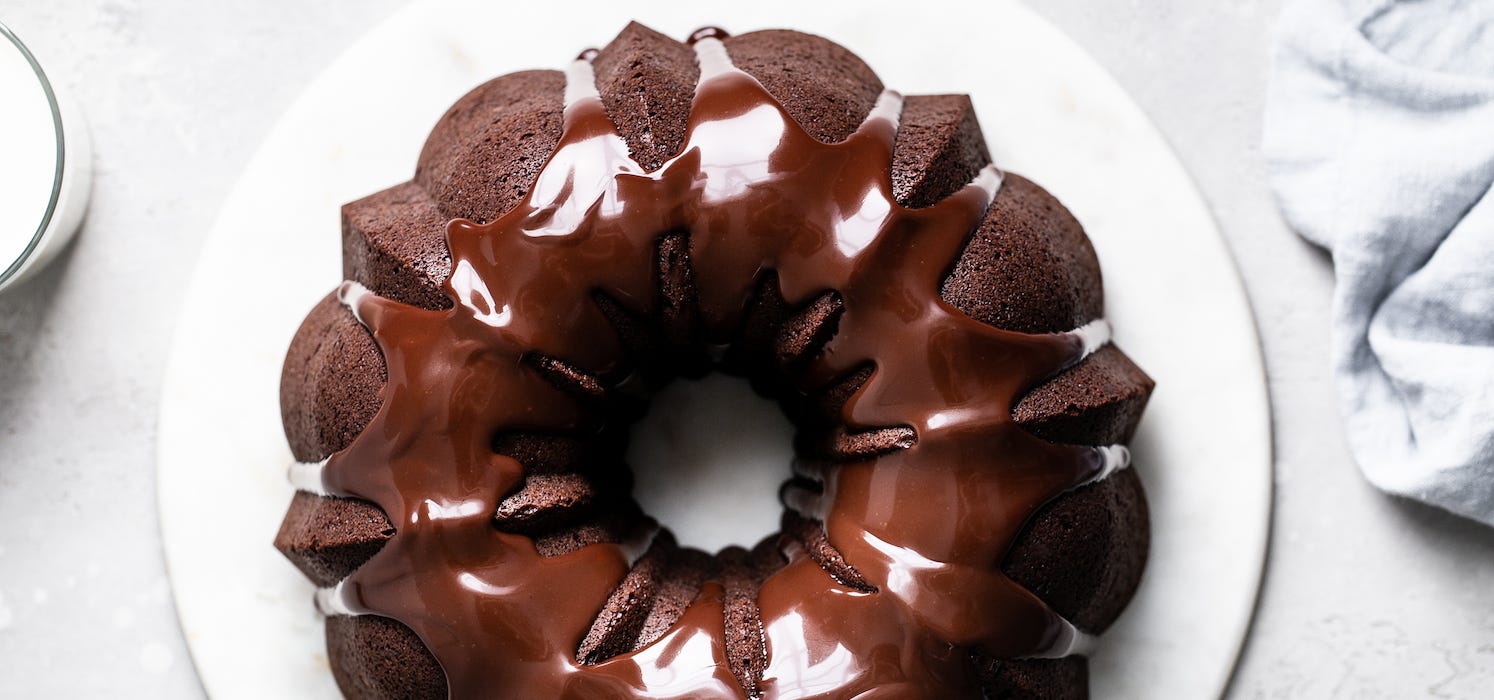 1 3/4 cups Flour, all-purpose
1/2 cup Ghirardelli Premium Dutch Process Cocoa Powder
1 tsp Salt
1/2 tsp Baking soda
1 1/2 tsp Baking powder
3/4 cup (1 1/2 sticks) Butter, unsalted, room temp
3/4 cup Sugar, granulated
1/2 cup Light brown sugar, packed
4 Large eggs, room temp
2 tsp Vanilla extract
3/4 cup Sour cream
1/3 cup Strong coffee or espresso, hot
1 cup Ghirardelli 60% Cacao Bittersweet Chocolate Chips
1/2 cup Heavy cream
1/2 cup Ghirardelli 60% Cacao Bittersweet Chocolate Chips
1/2 tsp Oil, canola or vegatable
Adjust the oven rack to the middle of the oven and preheat it to 350° F.

Add the flour, sifted cocoa powder, salt, baking soda and baking powder to a medium bowl. Set aside.

Add the butter to the bowl of a standing mixer and mix on medium-high for about one minute.

Scrape down the standing mixer bowl, and add the granulated and brown sugars to the butter. Mix on medium-high for 3-4 minutes until light and fluffy.

Add one egg at a time, fully incorporating the egg before adding the next.

This will be about 20-30 seconds on medium low after each egg addition. Scrape down the mixing bowl before adding in the vanilla.

Turn the standing mixer to low, and add about half of the sour cream and then half of the dry ingredients. Add the remaining sour cream and then dry ingredients. Mix until just combined.

Remove the bowl from the standing mixer and pour in the hot coffee or espresso. Use a sturdy spatula to mix in the coffee with a few stirs.

Briefly mix in the Ghirardelli 60% Bittersweet Chocolate Chips and make a final turn of the batter to make sure all the of the ingredients are incorporated.

Spray a 10-15 cup Bundt pan generously with baking spray. Transfer the batter into the pan. Smooth the top of the batter with a spatula and give the pan a good bang on the counter to eliminate any air pockets.

Bake for 45-50 minutes. The cake is done when you press the top and it springs back, and when a toothpick comes out with a few crumbs clinging to it.

Let the cake cool for 10 minutes (set a timer). The edges of the cake will start to pull away from the pan while it cools. After 10 minutes, invert the bundt onto a wire rack and lift off the pan. If using a nonstick Bundt pan and it was well greased, the pan should easily release the cake. Let it continue to cool for 1-2 hours before adding glaze.

GLAZE: Heat heavy cream over medium low heat until it just begins to simmer. Do not boil. Add chocolate chips to a medium bowl and pour hot milk over the top. Let sit for 5 minutes and then stir until combined. Add the canola oil and stir until smooth and shiny. Pour over cooled bundt cake.