Ghirardelli Fudgy Flourless Chocolate Chip Cookies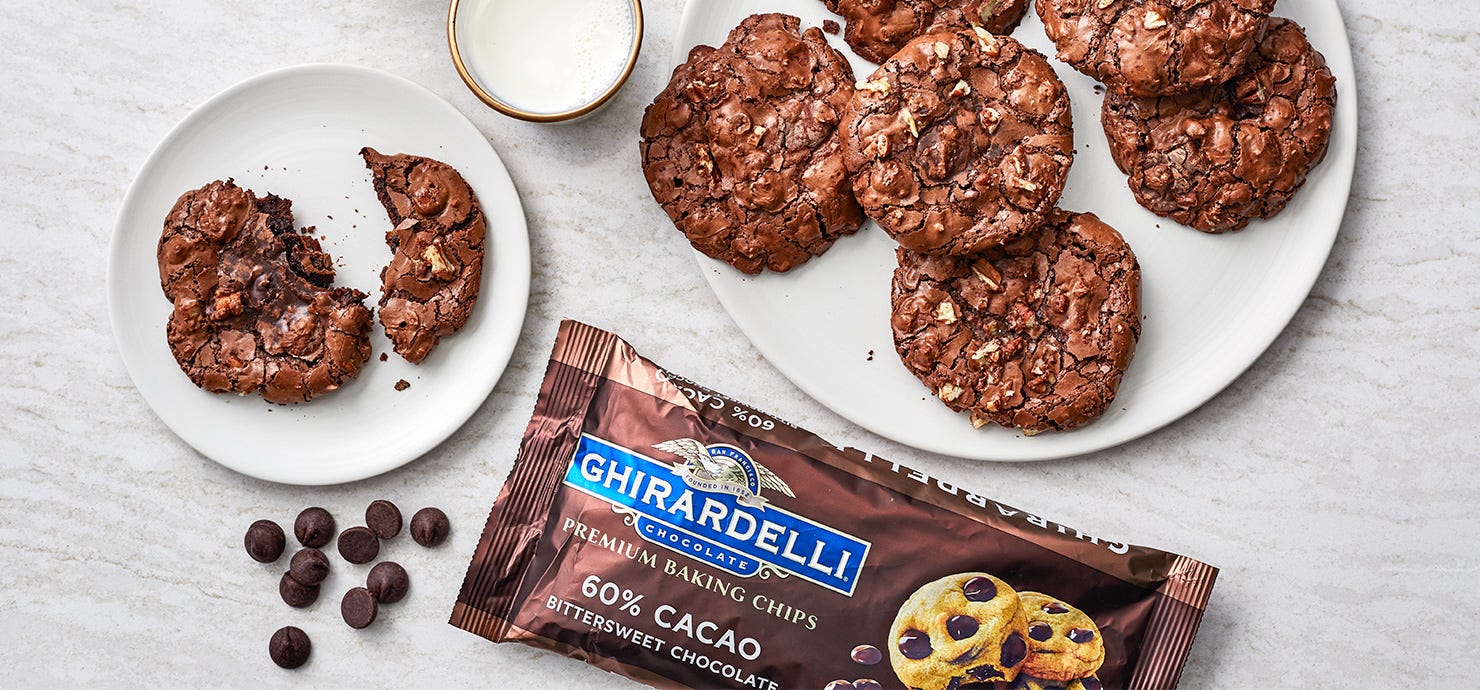 1 cup Pecans, finely choppedCooking spray
2/3 cup Ghirardelli 100% Unsweetened Ground Cocoa
1/4 teaspoon Salt
3 Egg whites, large, at room temperature
2 teaspoons Vanilla extract
3 cups (12 oz) Powdered sugar
1 cup (6 oz) Ghirardelli 60% Cacao Bittersweet Chocolate Baking Chips
Preheat oven to 350°F. Place pecans in a single layer on a baking sheet, and bake in preheated oven until toasted and fragrant, 6 to 8 minutes, stirring halfway through. Let cool completely, about 20 minutes. Line 2 large baking sheets with parchment paper; lightly coat parchment with cooking spray.

Sift together powdered sugar, Ghirardelli Premium Baking Cocoa, and salt in a large bowl. Whisk egg whites in a separate bowl until frothy (about 1 1/2 minutes). Stir egg whites and vanilla into powdered sugar mixture. (Batter will be very thick.) Stir in Ghirardelli Bittersweet Chocolate Chips and toasted pecans until well combined.

Using a 1 1/2-inch cookie scoop (about 2 tablespoons), scoop dough, and place 3 inches apart on prepared baking sheets.

Bake in preheated oven until tops are shiny and cracked, 8 to 10 minutes. Cool on baking sheet 5 minutes; transfer to wire racks, and cool completely, about 15 minutes. Then taste pure joy in every bite of these delicious flourless chocolate chip cookies!