Ghirardelli Dark Chocolate Brownie Truffles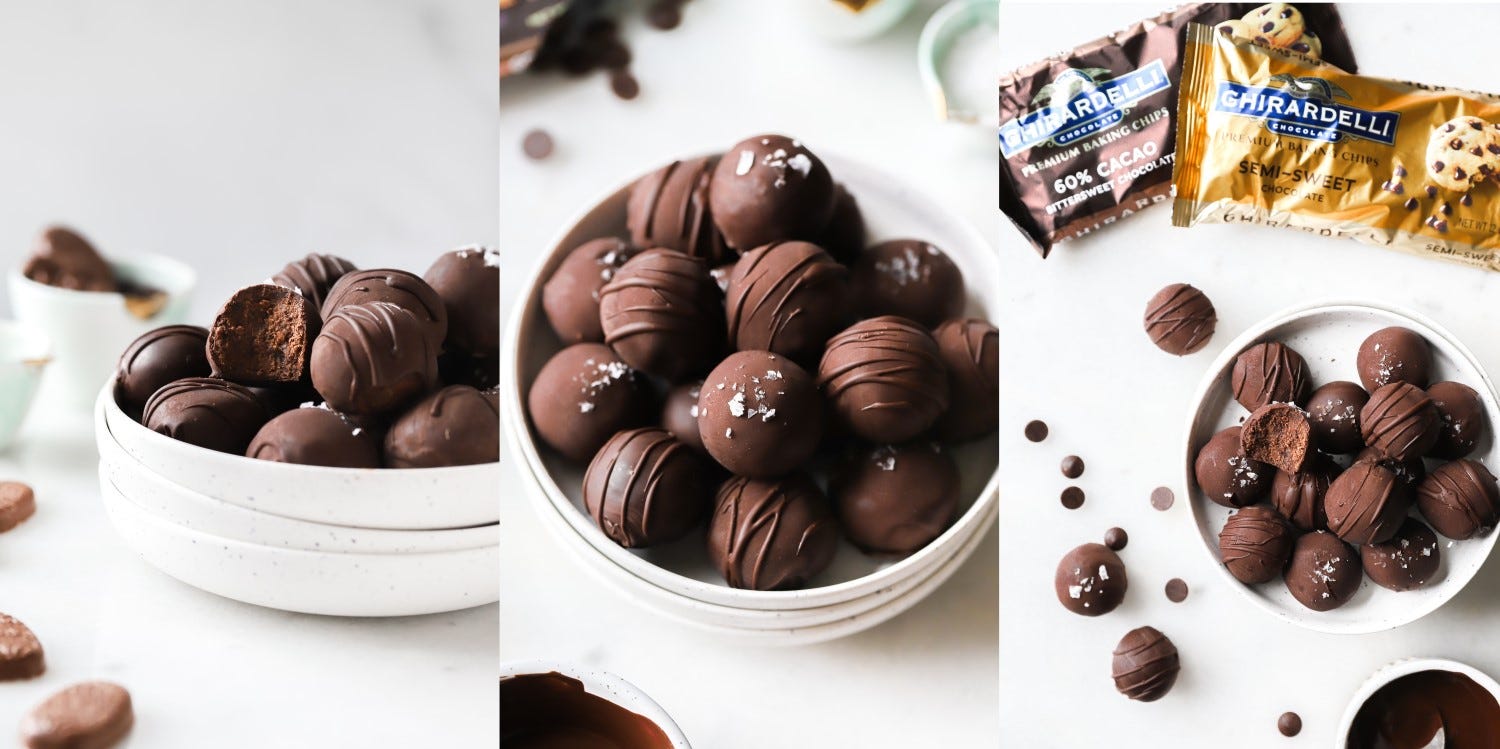 Servings: 20 Truffles
Photo and Recipe credit: Bernice with Baran Bakery
1 cup (6 oz) Ghirardelli Semi Sweet Chocolate Baking Chips
1/2 cup Butter, unsalted, softened
3 Eggs
1 cup Sugar
1/2 cup Brown sugar
1 cup Flour
1/8 teaspoon Baking soda
1/4 teaspoon Salt
1/4 cup Cocoa powder
1 teaspoon Vanilla
1 teaspoon Coconut oil
1 cup Ghirardelli Bittersweet 60% Cacao Baking Chips
Preheat the oven to 325F.

Use cooking spray and parchment paper to grease and line an 8-inch square pan.

In a heat safe bowl or a saucepan, melt butter with Ghirardelli Semisweet Chocolate Chips.

Set aside to cool while you get the rest of your ingredients together. Use a whisk to combine eggs, granulated sugar, brown sugar and vanilla, just until combined.

Combine flour, cocoa powder, salt and baking soda in a medium bowl.

Slowly pour in the butter and chocolate mixture to eggs and sugar, while whisking.

Use a sieve to sift dry ingredients into wet ingredients. Fold together until just barely combined.

Pour brownie batter into the prepared baking pan and bake for about 40 minutes.

Remove from the oven and allow brownies to cool completely.

Once the brownies are cool, place them in the bowl of a stand mixer. Using a paddle attachment, turn the mixer on to low speed (you can also do this by hand). When the brownies are all mushed up, use a small cookie/ice cream scooper to scoop out small rounds.

Form into a round ball and refrigerate until they're firm, at least one hour.

Meanwhile combine Ghirardelli 60% Cacao Dark Chocolate Chips with coconut oil. Microwave on 20 second intervals until melted and smooth.

Dunk each brownie ball into the melted chocolate.

Top with a pinch of sea salt and allow to set.