Ghirardelli Cookies & Crème Cheesecake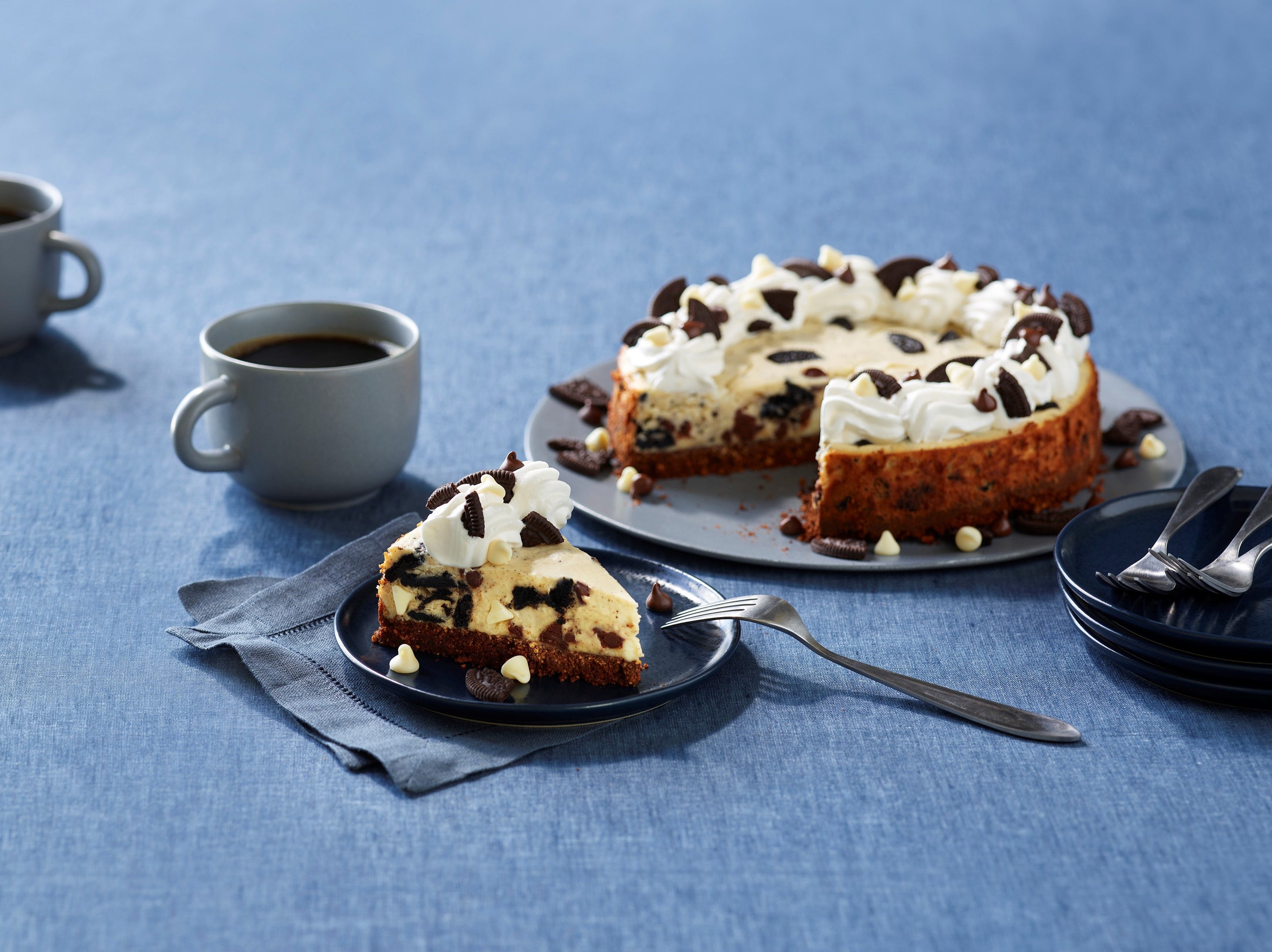 Yields: 16 servings
Total Time: 4 hours 45 minutes
CRUST:
1 ½ cup graham cracker crumbs (8 sheets crushed)
2 tablespoons Ghirardelli Unsweetened Dutch Cocoa Power
4 tablespoons unsalted butter, melted
FILLING:
16oz cream cheese, room temperature
½ cup sugar
2 eggs
1/4 teaspoon salt
1 teaspoon vanilla extract
8.5oz Ghirardelli Cookies and Crème Mix Ins. divided
Preheat oven to 350F. Line an 8" round metal pan with foil and grease liberally with butter or cooking spray.

In a medium bowl, combine graham cracker crumbs and cocoa powder. Stir in melted butter. Press mixture into bottom of prepared pan. Par-bake crust for 8-10 minute. Remove from oven and allow crust to cool as you prepare filling.

In a stand mixer fitted with a paddle attachment, beat together cream cheese and sugar until well blended. Add salt and vanilla, mix well. Add eggs one at a time, mixing on low speed after each addition until just blended.

Measure ¼ cup of Ghirardelli Cookies and Crème Mix Ins, set aside for topping. Stir remaining mix ins into cheesecake mixture until well distributed. Pour over curst and spread into an even layer.

Bake for 30-40 minute or until center is almost set.

Remove the cheesecake from the oven and set it on a rack to cool. Once the cake is cool, refrigerate for 3 hours or until you're ready to serve it.

Top with freshly whipped cream and sprinkle with Ghirardelli Cookies & Crème Mix Ins before cutting and serving.