Chocolate Banana Zucchini Bread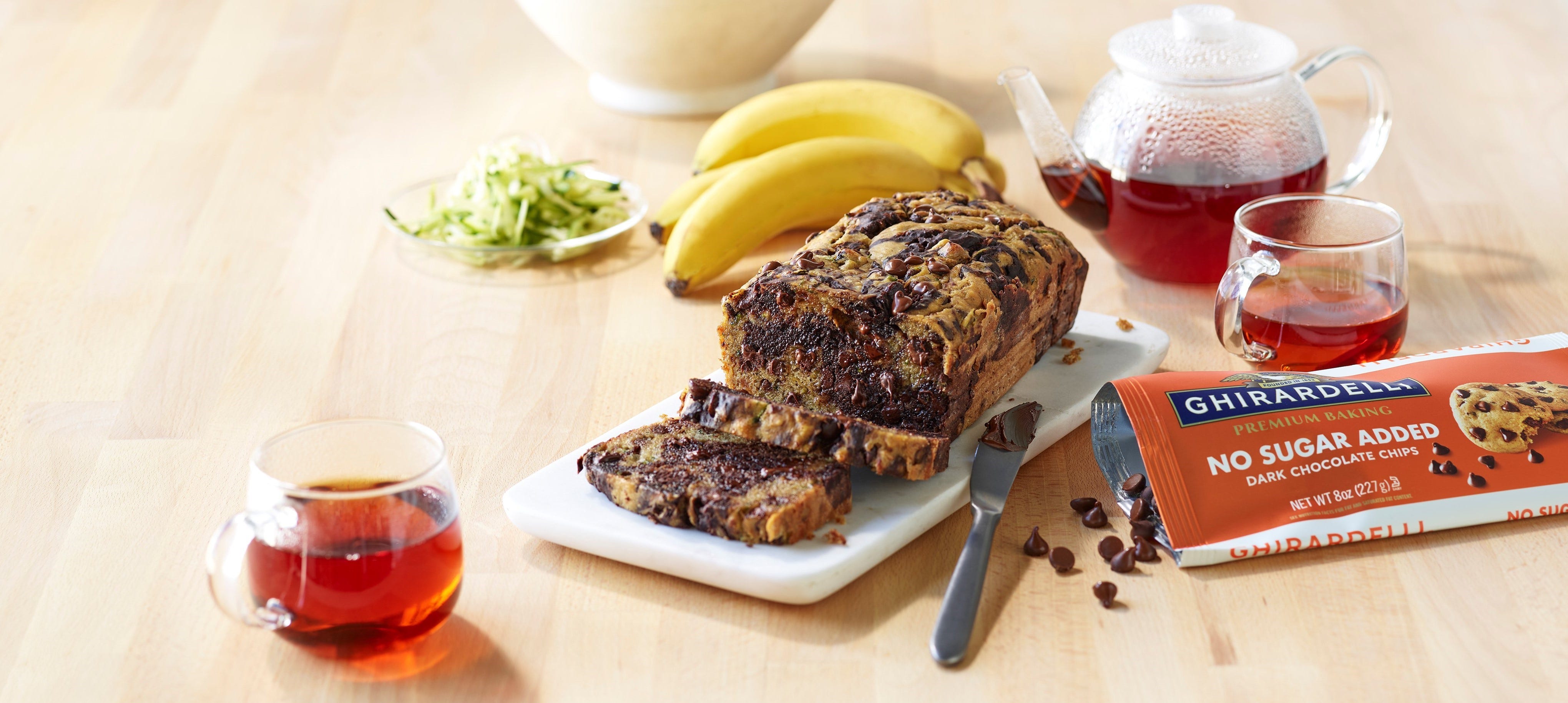 Yields: 1 loaf
Active time: 15 minutes
Total time: 1 hour 30 minutes
1 ½ cups all-purpose flour, 190g
3/4 tsp baking powder
1/2 tsp baking soda
1/2 tsp salt
2 bananas, mashed (approximately 2 cups), 210g
1 cup shredded zucchini, 100g
1 egg
1 tsp vanilla
1/3 cup coconut sugar, 55g
1 tsp apple cider vinegar
2 tbsp coconut oil
1/2 cup Ghirardelli No Sugar Added Dark Chocolate Chips, 90g
CHOCOLATE BASE:
1/4 cup Ghirardelli 100% Unsweetened Ground Cocoa
1 tbsp milk
Preheat oven to 350 degrees and line a 9x5 loaf pan with parchment paper.

In a medium bowl, whisk together the dry ingredients (all-purpose flour, baking powder, baking soda and salt.

In another bowl, combine the wet ingredients (sugar, banana, zucchini, egg, vanilla, and apple cider vinegar.

Combine the dry ingredients with the wet ingredients. Add the coconut oil and mix until just combined and no flour streaks are present.

Fold the chocolate chips into the batter.

Divide batter evenly into 2 bowls.

In one bowl, add the cocoa powder and milk of choice, mixing until just combined.

Spoon the plain and chocolate batter alternately into the loaf pan. Use thin spatula or knife to gently swirl the batter for a marbled texture.

Bake for 40-50 minutes, until a tester comes out clean.

Remove from oven and cool in pan for at least 15 minutes before removing from pan.