Dreamy Fudge Pie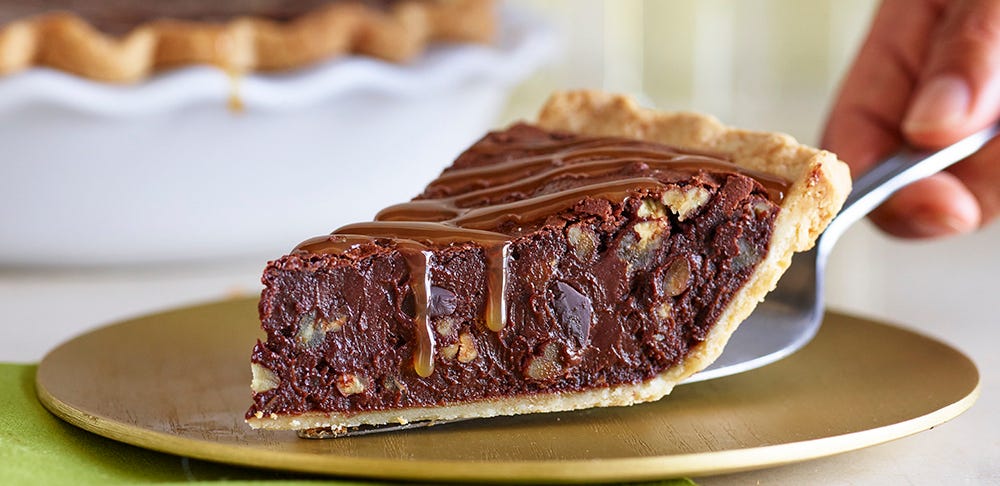 2/3 cup Evaporated milk
3 tablespoons Butter
1 cup Sugar
2 tablespoons All purpose flour
2 Large eggs
2 teaspoons Vanilla extract
3/4 teaspoon Kosher salt
1 cup Pecans, toasted and coarsely chopped
1 (9-inch) Frozen pie crust shell, unbaked
1 (17-ounce) Bottle Ghirardelli Premium Caramel Sauce 
Preheat oven to 375° F. In a large, microwave-safe bowl, microwave the evaporated milk, chocolate, and butter on low for 30-second intervals, stirring after each, until melted and combined, about 2-3 minutes total. If you prefer, use a double boiler or heavy saucepan on the stove to melt the ingredients, being sure to stir constantly.

Whisk sugar and flour into chocolate mixture, stirring to combine. Add eggs, 1 at a time, whisking just until blended after each addition. Whisk in vanilla and salt. Stir in pecans. Pour mixture into pie shell.

Bake at 375°F for 34 to 36 minutes or until set, covering after 25 to 30 minutes with aluminum foil to prevent over-browning the crust .

Cool 10 minutes. Drizzle desired amount of caramel sauce over the fudge pie and serve.