Dark Sea Salt Caramel S'mores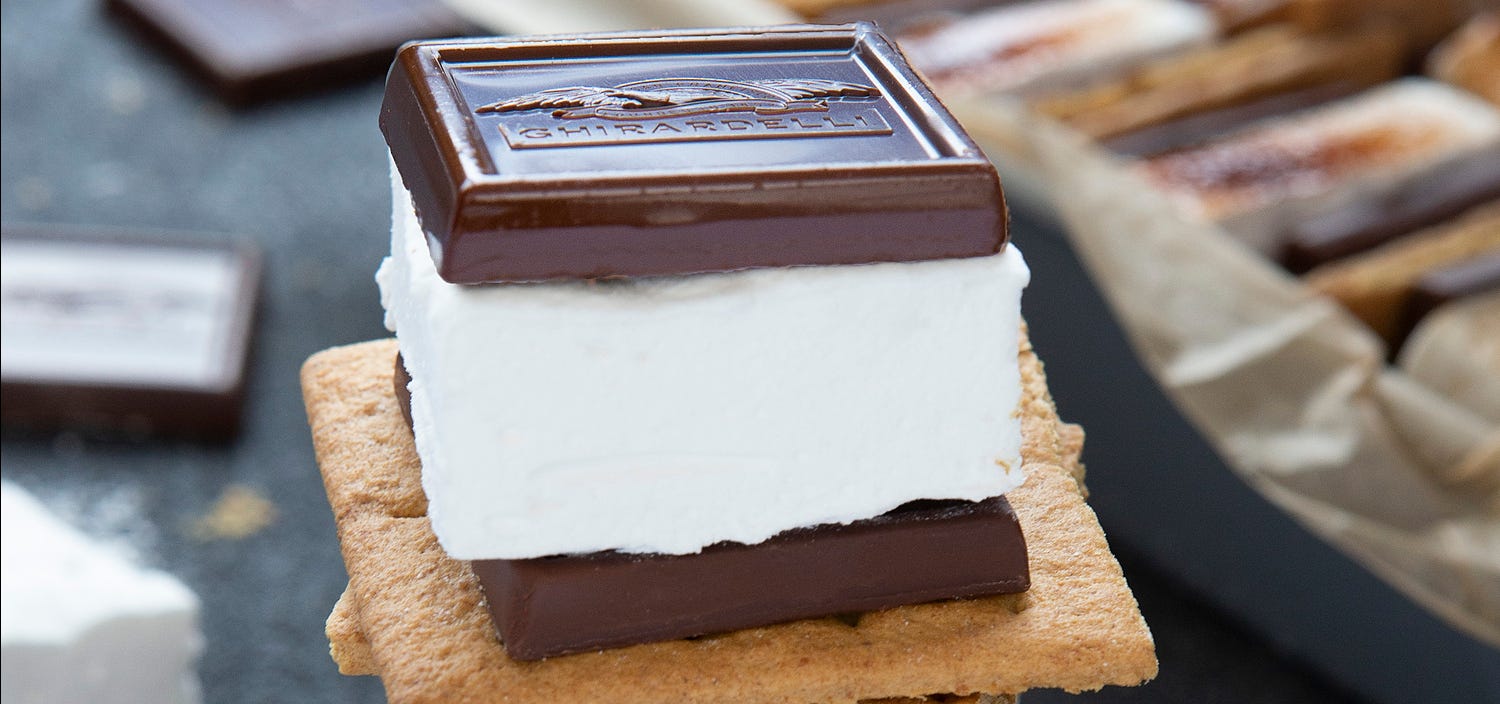 S'mores
12 Ghirardelli Dark Chocolate Sea Salt Caramel Squares
6 homemade marshmallows (recipe below), or use store bought, toasted
6 graham crackers, broken in half (so you have 12 squares)
Homemade Marshmallows
Cooking spray
3 packages unflavored gelatin
2 cups granulated sugar
1 cup powdered sugar
Cooking tools:
A candy thermometer
Tin foil
9×13-inch cake or jelly roll pan
S'MORES: Set 6 of the graham squares on a large platter and top with a square of chocolate.

Add a toasted marshmallow to each square, then top with another square of chocolate.

Top with remaining graham squares and enjoy!

HOMEMADE MARSHMALLOWS: Line the inside of the pan with tin foil, then coat well with cooking spray.

In a large mixing bowl, combine a 1/2 of a cup of cold water with the packets of gelatin and allow to sit until gelatin forms, about 15 minutes.

In a medium saucepan on medium heat, combine the sugar and 1/2 of a cup of water, then stir until sugar has dissolved—about 3 to 5 minutes. Increase heat to bring mixture to a low boil, and continue to boil until the temperature reaches 240 degrees F on a candy thermometer - about 12 to 15 minutes. Remove from heat.

Slowly pour sugar mixture into the bowl with the gelatin, simultaneously using a mixer on low. Gradually increase speed to high and continue whipping until the mix is very thick, about 10 to 15 minutes—imagine the consistency of pourable taffy.

Pour the mixture into the pan, smoothing the surface with a spatula. (Spray spatula with cooking spray as needed to keep it from sticking.) Let the marshmallow sit for about 6 hours, uncovered, until completely set.

Cover a surface larger than the marshmallow slab with powdered sugar and either lift out the marshmallow by the tin foil, or flip the cake pan over so that marshmallow lands on the dusted surface.

Cut marshmallows in whatever shapes you'd like. (It helps to continually coat the knife or cookie cutters with powdered sugar to keep them from sticking. A pizza wheel is great if you're just cutting into squares or rectangles.)

Note: You can store them in a sealed bag at room temperature, or put them in the freezer. Marshmallows don't ever really freeze, they just get really, really cold.