Peppermint Bark Brownies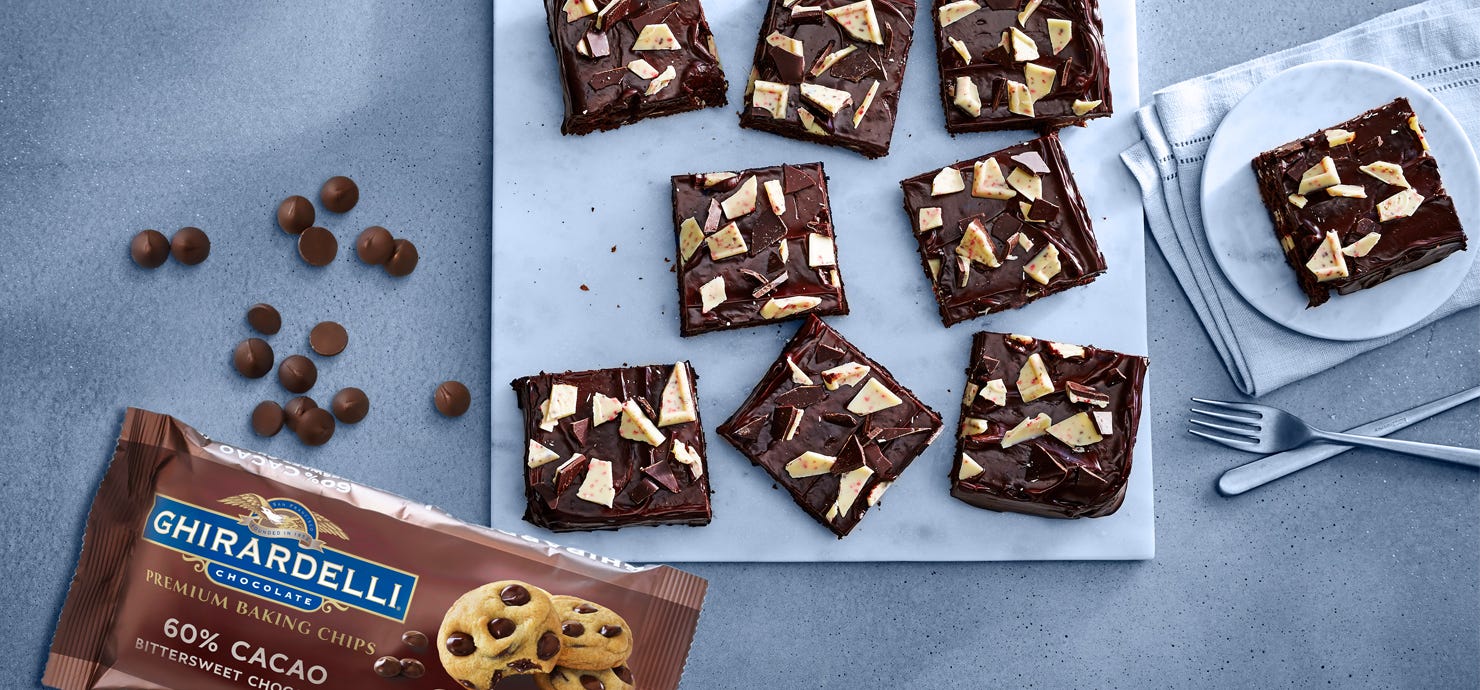 Cooking spray
10 tablespoons unsalted butter, cut into pieces
1/4 cup Ghirardelli 100% Unsweetened Ground Cocoa,
1 2/3 cups Ghirardelli 60% Cacao Bittersweet Chocolate Premium Baking Chips, divided
1 cup sugar
3 large eggs
1 teaspoon vanilla extract
1/2 cup all-purpose flour
1/2 teaspoon baking powder
1/2 teaspoon salt
2 (3.5-ounce) Ghirardelli Peppermint Bark with Dark Chocolate bar, coarsely chopped, divided (or 16 Peppermint Bark Squares, coarsely chopped, divided)
1/4 cup heavy cream
Preheat oven to 350ºF. Line bottom and sides of an 8-inch square pan with parchment paper, allowing about an inch of paper to extend over opposite sides of pan; lightly coat with cooking spray.

In a microwave-safe bowl, microwave butter and 1 1/3 cups chocolate baking chips on medium (50% power) for 2 minutes, stirring every 30 seconds , until melted and combined, about 2 minutes total. Whisk in sugar (mixture will look grainy). Whisk in eggs and vanilla, mixing until smooth.

In a separate bowl whisk together cocoa, flour, baking powder, and salt. Stir flour mixture into chocolate mixture until just combined. Fold in half of peppermint bark. Pour mixture into prepared pan; smooth top. Bake, rotating pan halfway through, until a toothpick inserted in center comes out with a few crumbs, 25 to 30 minutes. Let cool on a wire rack for 30 minutes. Lift brownies from pan using parchment as handles and transfer brownies to rack to cool completely.

Place brownies on a cooling rack set over a rimmed baking sheet. Place remaining 1/3 cup chocolate baking chips in a medium glass bowl. Warm cream in a small, heavy saucepan over medium-high heat, stirring occasionally, until steaming, 2 to 3 minutes. Remove from heat and pour over chocolate baking chips. Let stand for 2 minutes; whisk until smooth. Pour over brownies and spread to edges with a small offset spatula. Sprinkle evenly with remaining peppermint bark. Before serving, let stand, or refrigerate, until glaze sets.