Mini Chocolate Chip Gingerbread Cupcakes With Molasses Buttercream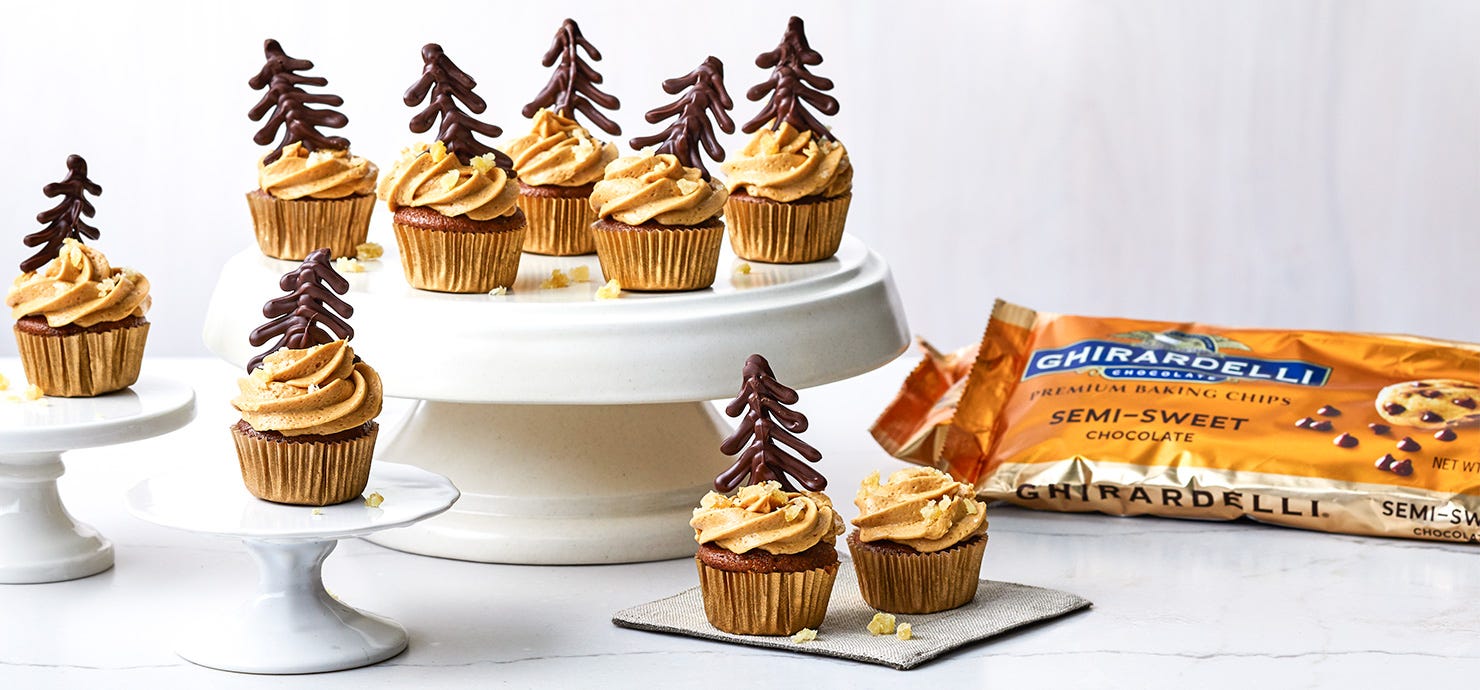 2 ½ cups (about 10 5/8 oz.) all-purpose flour
1/3 cup chopped crystallized ginger
¾ tsp. baking soda
½ tsp. table salt
½ tsp. ground cinnamon
1/8 tsp. ground cloves
¼ cup unsalted butter, softened
¼ cup granulated sugar
¼ cup packed light brown sugar
½ cup unsweetened applesauce
2 large eggs
1 cup hot strong-brewed coffee
1/3 cup unsulphured molasses
1 cup (6 oz.) Ghirardelli Semi-Sweet Chocolate Baking Chips (from 1 [12-oz.] pkg.)
48 miniature paper baking cups
Cooking spray
3/4 cup (6 oz.) unsalted butter, softened
1 ½ Tbsp. unsulphured molasses
1/8 tsp. table salt
4 ½ cups (about 18 oz.) powdered sugar
3 to 4 Tbsp. whole milk
1 cup (6 oz.) Ghirardelli Semi-Sweet Chocolate Baking Chips (from 1 [12-oz.] pkg.)
GARNISH: Finely chopped crystallized ginger
Prepare the Cupcakes: Preheat oven to 350°F. Place flour, crystallized ginger, baking soda, salt, cinnamon, and cloves in a food processor; process until ginger is finely ground, about 1 minute.

Beat butter, granulated sugar, and brown sugar with a heavy-duty stand mixer fitted with paddle attachment on medium speed until light and fluffy, 2 to 3 minutes. Beat in applesauce until blended. Add eggs, 1 at a time, beating just until blended after each addition.

Stir together hot brewed coffee and molasses in a 2-cup glass measuring cup until blended. Add flour mixture to butter mixture alternately with coffee mixture, beginning and ending with flour mixture. Beat on low speed just until blended after each addition. Gently stir in 1 cup (6 ounces) Ghirardelli Semi-Sweet Chocolate Baking Chips.

Place 48 miniature paper baking cups in 4 (12-cup) miniature muffin pans, and coat cups with cooking spray. Spoon batter into cups, filling almost full. Bake in preheated oven until a wooden pick inserted in center comes out clean, 12 to 14 minutes. Remove from pan to a wire rack, and cool completely, about 30 minutes.

Prepare the Molasses Buttercream: Beat butter in a large bowl with an electric mixer on medium speed until smooth; beat in molasses and salt until fully incorporated, about 1 minute. Gradually add powdered sugar and 3 tablespoons of the milk, and beat until light and fluffy, about 2 minutes. If needed, add remaining 1 tablespoon milk, 1 teaspoon at a time, and beat until desired consistency is reached.

Prepare the Chocolate Trees: Place 1 cup (6 ounces) Ghirardelli Semi-Sweet Chocolate Baking Chips in a small microwavable bowl, and microwave on MEDIUM (50% power) until melted and smooth, 1 to 2 minutes, stirring every 30 seconds. Transfer mixture to a piping bag or heavy-duty ziplock bag with a very small hole snipped in corner of bag. Pipe into small Christmas tree shapes on a parchment paper-lined baking sheet. Chill until set, about 15 minutes; keep chilled until ready to use.

Pipe or dollop Molasses Buttercream on chocolate gingerbread cupcakes. Garnish with finely chopped crystallized ginger, and top with chocolate Christmas trees.