Dutch Chocolate Doughnuts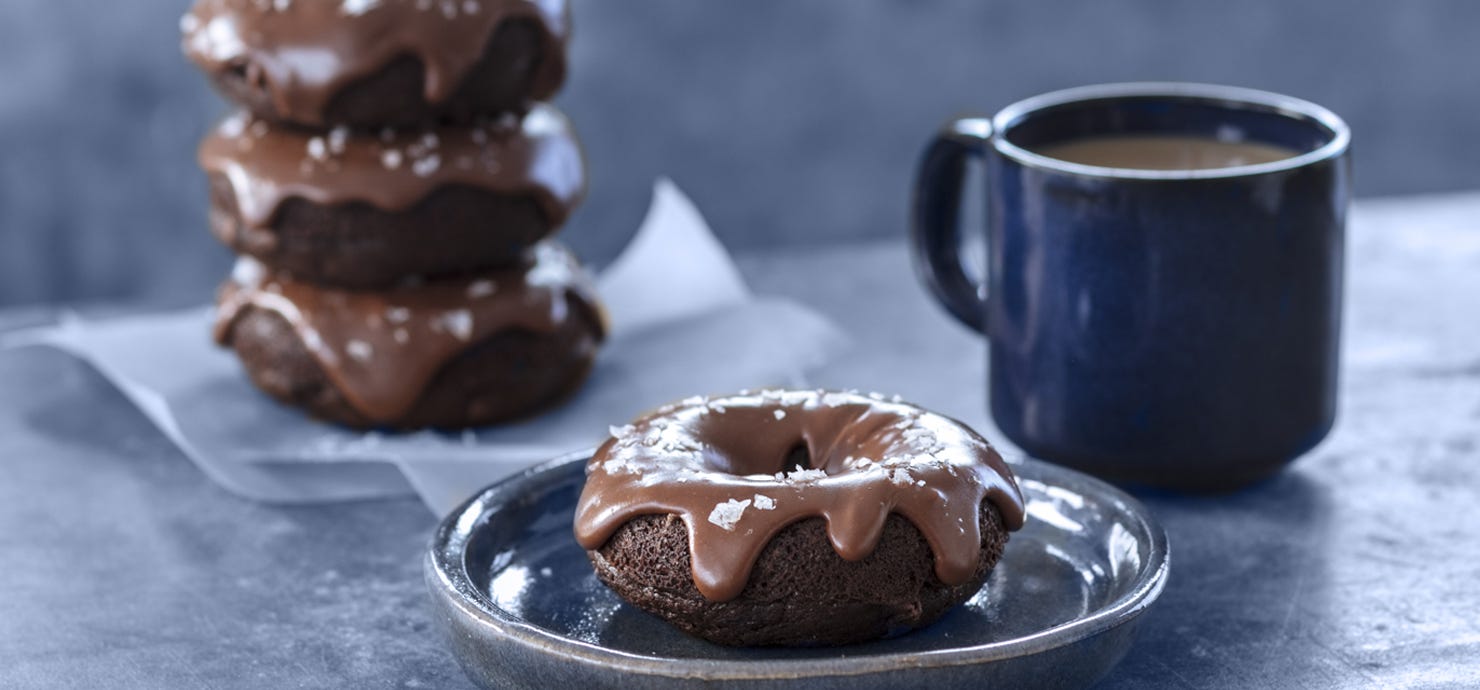 Nonstick cooking spray
1 1/4 cups all-purpose flour
1/2 cup packed brown sugar
1/3 cup Ghirardelli Dutch-Process 100% Baking Cocoa
1/4 cup granulated sugar
1/2 teaspoon baking soda
1/2 teaspoon baking powder
1/4 teaspoon salt
1 egg, lightly beaten
1/2 cup milk
1/2 cup unsalted butter, melted
1 cup Ghirardelli Semi-Sweet Chocolate Mini Baking Chips
Flaked sea salt
Chocolate Glaze
3 ounces Ghirardelli 60% Cacao Baking Bar, coarsely chopped
3 tablespoons unsalted butter
3 cups powdered sugar
1 tablespoon light-color corn syrup
1 teaspoon vanilla
4 - 5 tablespoons hot water
Preheat the oven to 375°F. Generously coat a 3-inch doughnut pan with cooking spray; set aside.

In a medium bowl, stir together the flour, brown sugar, cocoa powder, granulated sugar, baking soda, baking powder, and salt. Make a well in the center of the mixture.

In a small bowl, combine the egg, milk, and melted butter. Add all at once to flour mixture; stir just until smooth. Stir in mini baking chips.

Spoon the batter into a large resealable plastic bag; snip off one corner of the bag. Pipe the batter into the prepared pan, filling the rings about three-fourths full.

Bake for 10 to 12 minutes or until the tops spring back when lightly touched. Cool in the pan on a wire rack for 2 to 3 minutes. Invert doughnuts onto a wire rack. Cool the pan, wipe it out, and coat the bottom with nonstick cooking spray. Repeat filling the pan and baking with remaining batter.

To coat doughnuts with Chocolate Glaze, cool doughnuts completely. Place a sheet of waxed paper under the wire rack. Generously spoon the glaze over the doughnuts to cover, allowing the excess to drip off. Sprinkle with flaked sea salt. Let stand until glaze is set.

Chocolate Glaze: In a medium saucepan, combine chopped chocolate and 3 tablespoons butter. Cook and stir over medium-low heat until melted. Remove from heat. Stir in powdered sugar, corn syrup, and vanilla. Stir in enough hot water to make a thick glaze of drizzling consistency.

Tip: For the best results, don't skip the 2-minute cooling time before removing the doughnuts from the pan.