Hot Chocolate Bombs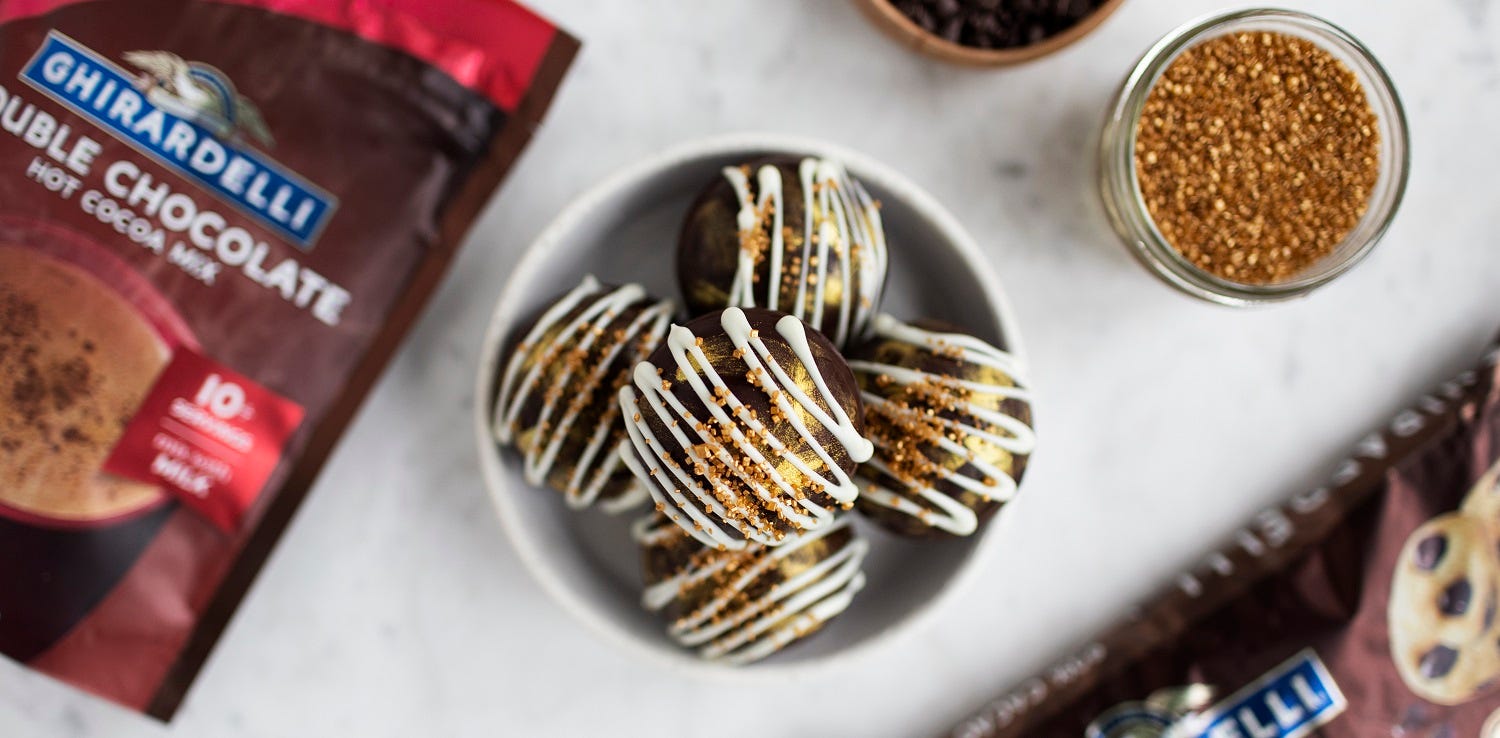 Learn how to make hot chocolate bombs with premium Ghirardelli chocolate. This fun hot chocolate bombs recipe makes the most delicious hot cocoa chocolate bombs.
Servings: 6 pieces
2 cups Ghirardelli 60% Cacao Bittersweet Baking Chips, melted
1/2 cup Ghirardelli Double Chocolate Hot Cocoa
1/2 cup Ghirardelli Mini Semi-Sweet Chocolate Chips
1/2 cup Marshmallows, mini
2 teaspoons Ghirardelli White Melting Wafers, melted
2 1/4 teaspoons Edible gold dust, for topping
1 teaspoon Sprinkles, for topping
1 cup Milk, steamed, for serving
In two medium size 6 semi sphere silicone mold trays evenly divide the melted chocolate.

Using the back of a spoon swirl the chocolate up the sides of each mold until evenly coated. Refrigerate for 15 minutes. If any weak areas appear, swirl with additional melted chocolate to avoid any cracks or breakage.

Carefully remove the chocolate shells from the molds. To 6 of the molds evenly divide the hot cocoa, mini chocolate chips & marshmallows.

Swirl the remaining mold against a warm plate (run under hot water or microwave for 15 seconds to warm) & press to seal together with the filled molds. Smooth the seam with additional melted chocolate if necessary.

Using a clean small paint brush gently brush the top of each hot chocolate bomb with gold dust.

Transfer the melted white chocolate to a piping bag fitted with a small round tip & drizzle each hot cocoa bomb. Immediately finish with a pinch of gold sprinkles.

Refrigerate finished chocolate bombs until ready to serve. When ready to serve, place a hot cocoa chocolate bomb into a mug & slowly add the steamed milk. Stir & enjoy!