Salted Caramel Banana S'mores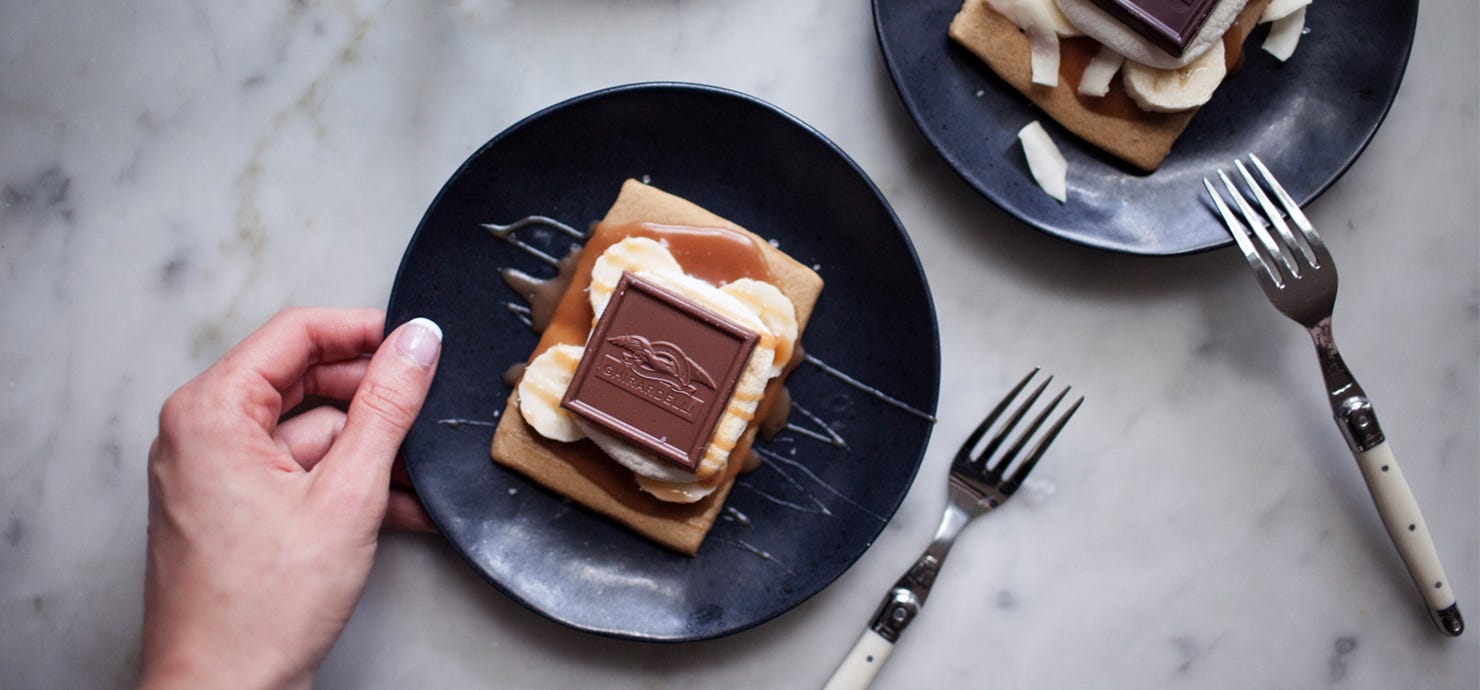 Servings: 10 - 15 S'mores
Caramel Banana S'mores:
Ghirardelli Milk Chocolate Caramel SQUARE
Graham Crackers
Marshmallows
Salted Caramel
Sliced Banana
Salted Caramel:
1 cup white sugar
1/3 cup water
1/3 cup heavy cream
1/2 cup unsalted butter
1 teaspoon vanilla extract
1 teaspoon sea salt
Graham Crackers:
1/2 cup butter, softened
3/4 cup brown sugar
1/4 cup milk
1 teaspoon vanilla extract
1 tablespoon molasses
1/2 cup whole wheat flour
2 1/2 cups all-purpose flour
1/2 teaspoon salt
1/2 teaspoon cinnamon
1/2 teaspoon baking soda
FOR THE SALTED CARAMEL: In a sauce pot add the sugar and water over medium high heat

Do NOT stir while bringing mixture to a boil.

Continue to boil until the sugar turns a deep amber color (approximately 5 minutes).

Be sure not to burn the caramel, it will go from a deep amber to burnt VERY quickly.

Remove from heat and immediately whisk in the heavy cream, butter, vanilla & sea salt.

Cool to room temperature before serving.

Store in the fridge covered for up to two weeks.

FOR THE GRAHAM CRACKERS: In the bowl of a stand mixer with the paddle attachment cream the butter, sugar & honey.

Add in the milk, vanilla & molasses until incorporated.

Sift in the whole wheat flour, all purpose flour, salt, cinnamon & baking soda.

Mix until dough comes together. shape into a disk & refrigerate for two hours.

When ready to roll out, heavily flour the surface & roll to 1/4 inch thick.

Cut into desired square or rectangular shape & poke holes using a fork.

Bake at 350 degrees for 6-8 minutes.

Let cool before serving.

FOR THE CARAMEL BANANA S'MORES: Layer graham cracker with toasted marshmallow, drizzle with salted caramel, layer sliced banana & finished off with Ghirardelli Milk Chocolate Caramel SQUARE.

Eat open faced or sandwiched together with an additional graham cracker.